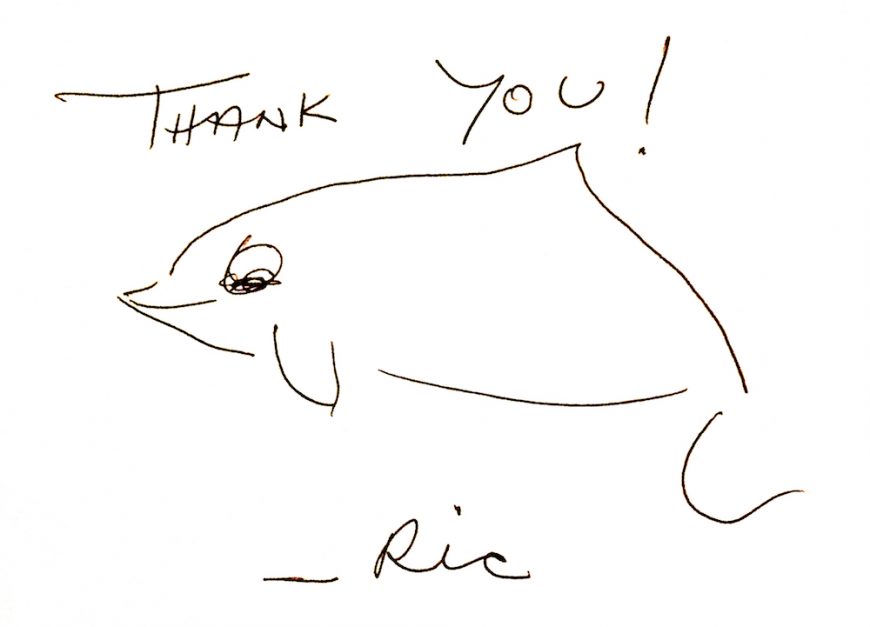 08
Feb
They might have taken me out of the country, but not my commitment to see these slaughters end." ~ Ric O'Barry, Founder/Director of Dolphin Project
February 5 is going to be a day long burned in my memory. While I was grateful to have been released from my 19-day incarceration, it also marked the last time I would step foot into Japan, at least for the short while – a country I have deeply grown to love over the many years I have been visiting there.
My son, Lincoln, was able to get me upgraded to business class, free of charge, on the flight back to the United States as I probably would have passed out in coach. He met me in Dallas when we landed, organized a wheelchair to whisk me through immigration and got me back to the homestead in Miami. This was a good thing, considering I had eaten very little, and my muscles were weak, not having exercised for days.
I want to thank everyone for standing with me during this ordeal. It was inconvenient and uncomfortable but well worth it. The payoff for the dolphins was huge and ongoing. The international media attention on Japan's war on dolphins was massive. We should probably thank the immigration service as we could not have done such a thing on our own.
As a result of my detention and subsequent deportation, based on trumped-up charges, millions of new people have been exposed to the annual dolphin slaughter. Many of them will join the cause and take action. It's exactly what the dolphins needed.
Day after day I sat in my cell (actually, either stood or was lying down as there was no chair), I worried about the drives taking place. I was allowed to make outgoing calls, and when I did, asked about the number of boats going out, and whether any dolphins had been caught. People were asking me about my health but my heart was in the cove.
As tourists, we have a legal right to be in Taiji, provided we do not interfere with, and/or violate the law. We are dolphin watching, as macabre as it sounds. While we are witness to a real-time horror show, we are still watching dolphins. We have a legal right to take photos and share these images on social media. We have a right to live stream. And the same goes for Japanese tourists who come to America. If they chose, they could check into a hotel in the Midwest, go to a rodeo, shoot video, live stream, take photographs and post all this onto social media. Not a problem. It's what a democracy is all about. Dolphin Project Cove Monitors are doing just that, only in Taiji. They have been there since the dolphin slaughter began again on September 1 and will be there until the end of the drive season. We have never violated a Japanese law, have never lied to immigration and our work methods have been 100% peaceful.
Deporting me is not the end, it's the start of something new. We are now in a position to file a lawsuit against the Japanese government. We have never been in that position before. I can't say too much about our legal strategy at this time because the government reads everything. But rest assured, our Japanese legal team is hard at work, making sure our rights are not violated.
While the guards at the immigration center were kind, respectful and professional, the immigration officers at Narita Immigration who detained me were not. The police who arrested me on bogus charges in Taiji on August 28, 2015 violated the law. Both the immigration service and the police violated the law routinely with their abusive interrogation methods. There are thousands of innocent people in Japanese prisons who signed confessions for crimes they never committed.
Please stand with me, and our team at Dolphin Project, to ensure we continue our crucial work in Taiji. As legal costs are escalating, we have established a Legal Defense Fund. If it's possible for you to contribute, whether one time, or in the form of a monthly donation, we would be very grateful as funds are urgently needed. We will take the lawsuit all the way to the Supreme Court of Japan, if necessary. Our success might very well be in the process itself, for the dolphins need all the attention they can get.
As I write this, I am sitting in front of a beautiful basket filled with fruits and vegetables. It arrived on my doorstep not long after I came home, sent by two dear friends of mine, Leilani Munter and her husband, Craig (Kiwi) Davidson. I cannot help but admire the bounty of shapes, colors and sizes, details I hadn't paid much attention to until now. I need to do more of the same, and as I have promised my family, focus on getting strong and healthy. Although we may not be able to answer every email and message we receive, we will keep everyone updated on our website, DolphinProject.net and on our social media channels.
Again, thank you one and all, for your support. #IStandWithYou