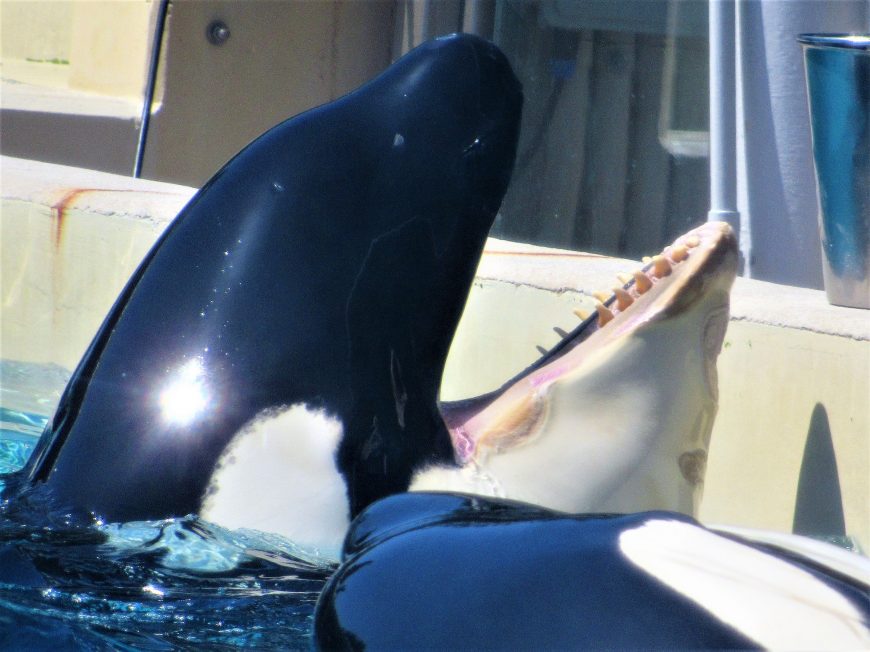 17
Jun
In August 2016, SeaWorld released information that Kasatka, the matriarchal orca at SeaWorld San Diego had been suffering from a bacterial respiratory infection. The park announced that the whale's chronic health problems were finally taking their toll. Kasatka, they said, was "having a more difficult time fending off the illness," due to a weakened immune system. Photographs received by the Dolphin Project just yesterday, appear to show the orca could be losing her battle for life.
The photographs, taken by a park visitor who wishes only to be known as Elizabeth, are alarming. They were captured as Kasatka and other orcas were being lined up for the administration of medication. Elizabeth explained:
When Kasatka lifted her head out of the water her lower jaw looked completely disfigured. She appeared extremely lethargic and did not swim around the pool as she normally would. When a trainer asked her to do a behavior for the crowd she did a pathetic attempt at a spy-hop. She seemed barely able to get her head out of the water. When the trainers were through, they dismissed the group of orcas and they all left except for Kasatka who moved only a few feet from the wall and stayed logging in the same spot until I left.
The images of Kasatka appear to show that the orca is suffering from more than a chronic respiratory infection. She could also be battling a fungal infection that has failed to respond to treatment.
Former senior trainer John Hargrove, author of the NY Times best-seller, "Beneath the Surface", told Dolphin Project that what Kasatka has are not injuries but open sore lesions from a massive fungal infection:
Captive orcas are regularly treated for persistent fungal infections. The severity of this fungal infection demonstrates the diminished capacity of Kasatka's own immune system. The constant need for massive amounts of antibiotics to keep orcas healthy in captivity decimates their immune system. Sadly, when I look at this photo, all I see is a diseased whale. Historically, when a necropsy is performed on an animal with this level of fungal infection, the fungal lesions are far worse internally than they are externally. It is also an incredibly painful way to die.
We were also curious about the medication being administered. Although not used to treat fungal infections, Hargrove said he's almost certain that it's a drug called "Regu-Mate." As a former senior trainer, Hargrove was trained and authorized to personally administer it to orcas at SeaWorld:
We used it for a trial period at SeaWorld but stopped due to its dangerous side-effects. Regu-Mate is only allowed to be administered by a male trainer wearing latex gloves (as seen in the photo) as it can cause infertility in female trainers."
He explained that in premenopausal whales it's used as a form of birth control but in postmenopausal whales, it is indicated as a medication to treat cancer, ovarian cysts, endometriosis, endometrial polyps and polycystic ovarian syndrome. Just last year in 2016, Hargrove testified as an expert witness regarding the types of drugs and their dangerous side-effects when used to treat captive orcas. His expert testimony included the drug Regu-Mate.
Kasatka was captured off the coast of Iceland in 1978. Estimated to be around 39-years-old, she is one of SeaWorld's most successful breeders and has given SeaWorld four orcas — Takara in 1991, Nakai in 2001, Kalia in 2004 and Makani in 2013. Kasatka's attack on trainer Ken Peters in 1999, played a huge role in the decision by federal administrative law judge Ken Welsch to rule that trainers must be protected by physical barriers when working with orcas. As one of only a few wild-caught orcas remaining at SeaWorld, losing her will almost certainly impact the hierarchy of the remaining orcas at SeaWorld San Diego.
Dr. Jeffrey Ventre, former SeaWorld trainer and cast member of the hit documentary, 'Blackfish', said:
Kasatka & Katina are the two most valuable killer whales in the history of SeaWorld. The value of matriarchs Kasatka and Katina is based on the stability they've provided to their social groups in California & Orlando, as well as their fertility, each producing many offspring. When I saw the image of her today, as a physician, it immediately reminded me of end stage AIDS. She is so immuno-compromised, covered in fungus, it's clear that she is near death. I hope she passes quickly. The video sequence of her throttling Ken Peters, as seen in the 'Blackfish' movie, is the most shocking human – orca encounter ever seen, including with wild whales, in my opinion.
Samantha Berg, who appeared in Blackfish with Ventre and Hargrove, shared Ventre's anguish:
I just saw the photo of Kasatka's disease ravaged body. Inevitably Kasatka's death will be portrayed by the SeaWorld corporation as a tragedy. SeaWorld will say they are saddened to lose (yet another!) family member. They will tell the public and the media that they did everything they could to give her a loving home, restaurant quality fish, superior dental care and a whole host of other lies that should be familiar to anyone who is dialed in to the anti-captivity movement.

Kasatka's trainers will be sad, the public will mourn, and the news cycle will move on to the next story and Kasatka will be forgotten.

So, before she goes I want people to at least know this:

It is Kasatka's LIFE – not her death- that is the real tragedy.

Kasatka was stolen from her true family in Iceland in 1978. She has spent the last 39 years in prison. Her crime? She was born a killer whale – a species so intelligent, beautiful and intriguing to humans that the owners of Seaworld knew they could put her on display and charge other humans just to watch her swim in a tank.

Kasatka' body has not been ravaged by illness alone – she has been forced to perform via food deprivation for every day of her life for the last 39 years. She has also been forced to bear children that were then removed from her side and relocated to other corporate-owned prisons. Given what we know about the bonds between mother and calves – this is an even greater violation than food deprivation and amounts to extreme emotional abuse.

Kasatka is not an individual – she is a corporate asset worth millions of dollars to a corporation that cares about her only to the extent that she can continue to perform and generate revenue. Her owners don't care how she feels or that she just might have memories of another happier life in the ocean.

Kasatka is one of only 4 remaining wild-captured killer whales still living in US Seaworld parks. With her passing there will only be 3 – Ulysses and Corky in San Diego and Katina in Orlando.

Sadly, the practice of capturing wild killer whales has not ended – the Russians continue to capture whales and the Chinese are building new facilities for whales to perform, breed and be on display.

Morgan, a killer whale who was "rescued" in the Netherlands remains in prison at Loro Parque in the Canary Islands even though she could have been a candidate for release.

While SeaWorld will say that Kasatka's life performing circus tricks for food helped them to provide an educational experience for countless numbers of school children who stream through their turnstiles every year – this is also a lie.

Watching whales perform tricks in captivity is a distraction from the very real dangers facing our planet and our oceans right now.

Did Kasatka's prison term help to educate park goers about ocean acidification, plastic pollution, fish farm effluent or dams that are right now causing salmon populations to crash and thus leading to the death and starvation of a wild pod of killer whales in the Pacific Northwest?

Will her death wake people up enough to address these issues?

Likely not.

At least in death, Kasatka's decades of suffering will finally come to an end. My heart breaks for her, not because she is dying but because she deserved better.

RIP Kasatka.
While we hope SeaWorld will publicly address the health issues Kasatka is facing, Hargrove echoed our sentiments about the orca who has spent her entire life confined for entertainment purposes. "How sad," he said, "that she's been reduced to this after everything she has done for this company and all the money she's made for SeaWorld."
Here at the Dolphin Project, we wish Kasatka freedom. You can help prevent orcas being held in captivity by signing our pledge to never buy a ticket to a dolphin and whale show.
Featured Image: Kasatka. Copyright, Elizabeth.
A quick note about Regu-Mate for clarity: Regu-Mate, made by Merck is the trade name for a synthetic hormone called Altrenogest. It is not used to treat fungal infections and is not indicated as such in the above article. The MSDS sheet for this drug is available at https://merckusa.compassites.com/product/view/8390045. It cautions pregnant women and others of childbearing age to exercise extreme caution when handling this product. Merck states that Regu-Mate is used in the management of prolonged estrus conditions.