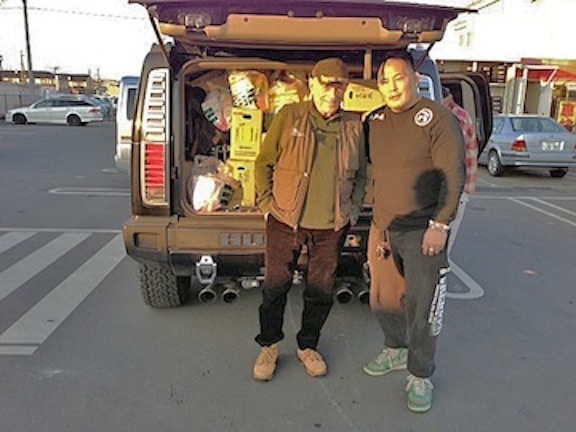 25
Jan
By Ric O'Barry
Director
Dolphin Project
Enson Inoue has millions of fans throughout Japan.  This guy gets stopped for autographs everywhere he goes.  He is a mixed martial arts star with a proud Japanese heritage.
He's making new fans in a lonely place – the outlying areas of Fukushima, site of the worst nuclear disaster in Japanese history.  The status of the nuclear power plants remains very precarious, and most of the young and middle-aged people living near have left to re-make their lives.
But one group of people has been forgotten here – the aged, the blind, the people bound by wheelchairs and other disabilities.  They have no place to go.  They are getting no help from the government.
But Enson hasn't forgotten, and he has been traveling to hard-hit areas on more than twenty-three trips now to distribute food, water, toiletries, and a bit of good cheer to these lonely, forsaken people.  He has been risking his life by exposing himself to radiation ever since the nuclear disaster happened. 
I joined him yesterday in traveling up to the area with a van full of bottled water, bags of rice, soap, toothpaste, and other necessities.  Dolphin Project and I are very pleased to support this effort he is making for the people of Japan.  We have to dodge about quickly as we deliver materials, as the government is not keen on our efforts to support these people.  We risk being intercepted and told to go back to Tokyo.
We also brought a surprise with us – potato chips!  It is remarkable how the smallest thing can bring on a bright smile among these people who have so little left.
The man is a national hero from my point of view.  He epitomizes the term "selfless service". I have the greatest respect for Enson. While everyone is running to safety from ground zero in Fukushima, Enson is running directly INTO ground zero to help the elderly who are stuck there in their desperation.
A prince of a man indeed!
He also shows what is good about Japan.  People here care deeply about each other, even if the government ignores them.  We are started to tap this goodness in the number of young Japanese who are starting to rise up and protest the dolphin hunts in Taiji.  I believe they hold the key to ending the brutal dolphin slaughter.
Enson and I, with our Cove volunteer coordinator Tim Burns, were in Fukushima last fall, and it was a pleasure linking up again with Enson to help distribute food and water.  Tim wrote a memorable blog about that trip.
I'm off now to Taiji, where I will be meeting with Sakura and a new Cove Monitor from Hong Kong, Suzzette.  We will be there to let the dolphin hunters and the government know that the world is watching, and we will not give up until they stop the hunts.