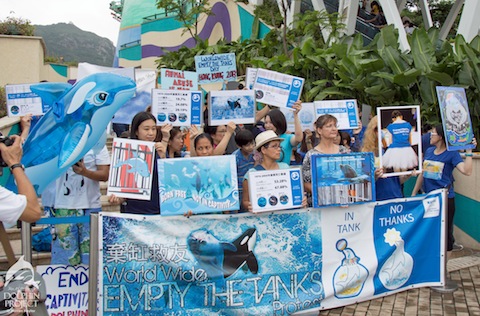 31
Jul
By Terran Baylor
Cove Monitor
Ric O'Barry's Dolphin Project

Hong Kong is a place rapidly trying to change and almost exploding in many directions at once.   The city may not be able to handle all the changes at once, and those changes can lead to disagreements. 
Several animal rights groups were part of the Empty the Tanks demonstration on Saturday, July 27th, each wishing to represent how they feel in different ways.  What was clearly evident was that at least 30 Hong Kong residents and others from around the world showed up to declare they wanted those captive dolphin tanks emptied, which unified everyone into a great demonstration! 
Zoe Ng was the main organizer and also created the petition for Ocean Park to release their dolphins, which was presented to a staff member of Ocean Park at the end of the demonstration.   The petition signed by almost 1,500 Hong Kong residents was accepted, and, hopefully, the Park leaders will begin to understand the public here increasingly wants changes made and the end of dolphin captivity.
Ocean Park is distinguished by being partially funded by the government here, so the obstacles may be a bit more complex than trying to just reduce visitor counts and profits.   I was informed 19 captive dolphins are held in this facility, and their main environment is in a closed building without sunlight!
A very controversial video clip was leaked back in May showing a dolphin slapping its body against a wall within the facility.   Immediately people believed "Pinky" was attempting suicide, and the people of Hong Kong wanted immediate action!
Unfortunately, Ocean Park responded saying this was "normal" and frequent behavior of the 14-year old female dolphin.   "Normal" does not mean "Natural" – and this is a big problem with these parks.   The reality is "Pinky" is behaving like a CAPTIVE dolphin and acting out in a completely NON-NATURAL way.
Hong Kong harbor also has a unique species of white humpback dolphin that have a pink or albino skin.   The pink color actually is not a pigment in their skin, but rather from overdeveloped blood vessels for thermoregulation.  The unique species is endangered here from pollution, fishing boats and gear, ferries, and a construction project to reclaim more of the ocean for the airport.
My arrival into Hong Kong brought a new surprise – the organizers requested that I speak at the event for Ric O'Barry's DolphinProject
This would be my first speaking event for the organization and because of all the book reading / education from the organization, especially from Ric O'Barry himself, I felt it a great honor and knew I could do a good job.  Had the support of fellow pod family sisters and Cove Monitors Jess Chan and Suzette Ackermann beside me for support and translation – I felt inspired and did my very best to represent this amazing organization.
Jess Chan was guest speaking at a local bookstore the night before, discussing the new book The Cove (Chinese translation, which she helped get the emotion back into the translation from the original German) – educating even more people about the town of Taiji and the tragic events that occur there September through March every year!  The Cove was written by Swiss activist and journalist Hans Peter Roth with Ric O'Barry (an English version is not yet available).
I also learned that Suzette Ackermann (also known as Suzette Mermaid) organized a couple of events with help from close friends to bring attention to the cause of ending captivity to Hong Kong children and adults, which also included fund raising for the Dolphin Project.   The children were very impressed and expressed their sentiments in art – of course breaking the hearts of everyone involved.
Cannot be more proud of Jess and Suzette for their tireless contributions!  Hong Kong is the entry port for many of the captive dolphins caught in Taiji for Chinese aquariums, so it is a key place for these activists to help put pressure on the government and ancillary industries, like the airline industry, to halt the trade in captive dolphins.
Petitions are handed to a representative of Ocean Park in Hong Kong last Saturday at the Empty the Tanks demonstration.  Photo by Terran Baylor.
Wanted to thank Zoe Ng for such a great event which I know must have pulled her in many directions with different animal rights groups wanting their own vision of the event.
Finally, a big Thank You to Rachel Greenhalgh for producing and helping all the different "EMPTY THE TANKS" events throughout the world – tremendous effort!