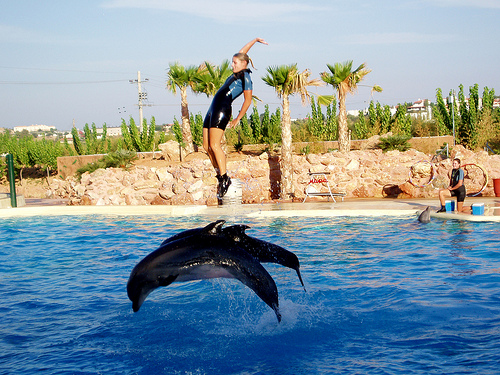 24
Jun
DOLPHIN SHOWS ARE ILLEGAL IN GREECE
By Ric O'Barry
Director
Dolphin Project
Shows that feature animals are banned in Greece, with the exception of some domestic animals like horses.
But the Attika Zoo still has dolphin shows, every day, several times a day.  The Zoo gets around the law by marketing the dolphin show as "an educational experience".
We are here to expose the lie and stop the dolphin shows once and for all.  I'm in Greece joined by a number of outstanding Greek activists and a number of Cove monitors (we are having something of a reunion, in fact, of those who have joined me in Taiji in the past).
We met with the Minister of Environment on Monday.  He told us he would look into the matter tomorrow.  Our Greek colleagues will meet with the minister again in two weeks to discuss our proposal to ban captive dolphin displays in Greece in accordance with the law.
We are encouraged.
We've also been active in special screenings of The Cove and other efforts to educate the Greek public about dolphins and how captivity is not good for these marine mammals.  There has been some discussion of eventually establishing a dolphin sanctuary here – a place in the ocean where the dolphins can go back to being dolphins instead of doing stupid circus tricks.  Some dolphins may be eligible for rehabilitation and release, although many were born in captivity.
My thanks to our Greek friends for some amazing Mediterranean hospitality.