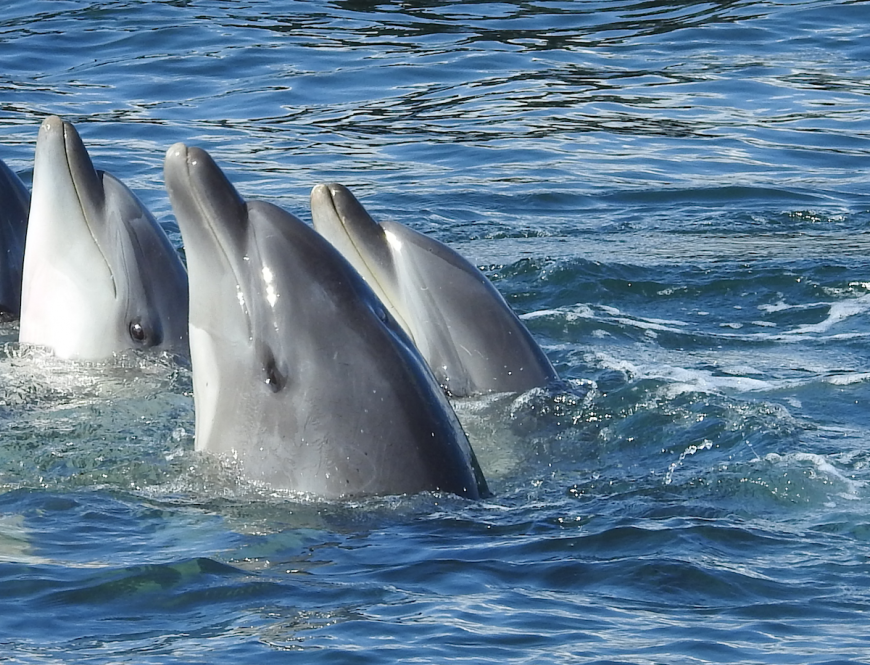 20
Aug
"Everyone dreams of swimming with dolphins. Greet them, hug them, play with them and receive a dolphin kiss. Book NOW!"
With sleek and tempting ads, dolphinariums around the world convince endless lines of tourists to purchase tickets for close-up encounters with dolphins. At a hundred dollars or more to enter the dolphin tank or enclosure, there is a lot of money to be made from using captive dolphins in so-called swim-with-dolphins programs. Dolphinariums and amusement parks employ alluring, seductive language that promises thrilling and intimate encounters with the popular marine mammals. "A kiss on the cheek prepares you for a belly ride and an exciting dorsal fin ride. This is truly an experience of a lifetime." Or, "NEW! A dolphin belly ride has been added to this experience!" It is no wonder that the number of swim-with-dolphins programs has increased in Mexico, Cuba, the Dominican Republic and many other tourist destinations—thousands of paying customers literally buy in. What the facilities don't reveal is that numerous wild dolphins are being captured in Russia, Cuba, Japan and other countries to meet consumer demand for a personal dolphin encounter.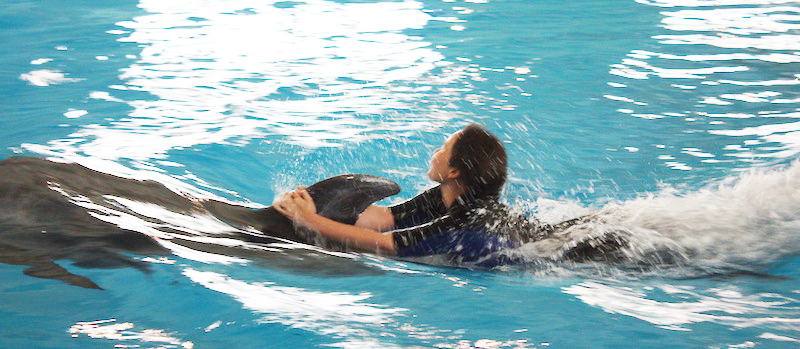 The popularity of captive dolphin swim programs and shows is due in large part to the travel operators who promote them, sell tickets and earn part of the profits. The slogan "Book NOW!" is repeated on their websites. It lures vacationers who are always on the lookout for what they perceive as fun ways to kill time and who are easy targets. Travel operators who support the capture, confinement and commercial exploitation of dolphins by selling tickets to captive dolphin facilities do not seem to care much about the ethics of exploiting wildlife in the name of superficial holiday and vacation entertainment.
For years, the British holiday giant Thomas Cook, which caters to millions of tourists every year, has targeted its clients with persuasive advertisements for dolphin shows and swim-with-dolphins programs in various parts of the world, thereby endorsing the suffering of dolphins in these money-making schemes. The appeals play on our emotions: "The dolphin encounter is hands-on, giving you a unique chance to interact with these friendly animals. You'll even get a fin shake and a kiss, if you're lucky!" Thomas Cook convinces its customers to buy tickets to one of the many captive dolphin swim programs in Mexico with "As you dip your toes into the crystal-clear waters at Dolphinaris Cancun, it's time to prepare for the experience of a lifetime. If swimming with dolphins is high up on your bucket list, you're in the right place."
Dolphinaris is a company that owns several captive dolphin facilities in Mexico. It attracts customers with a wide selection of hands-on dolphin experiences: the Dolphin Swim program, the Dolphin Swim & Ride, Trainer for a Day, and the Dolphin Interaction program. Dolphinaris makes it easy to purchase tickets online—just select the desired program, chose a date and time of day, and then click the highlighted button "Book NOW." This takes the consumer to a page where additional choices are available for sale, such as an individual photo package for $49 USD. Then, all that is left is to pay with a credit card or though PayPal. The price of the dolphin encounter varies. The Dolphin Swim & Ride program on August 8, 2018, at 10 a.m., for example, costs $119 USD. If purchased online, the customer enjoys a $10 USD savings. To secure even more customers, Dolphinaris makes a tempting offer to a water attraction park: "Book any Dolphin Swim Program and get a Free Admission to Ventura Park Cancun!" That admission to Ventura Park includes the option for an open bar with alcoholic drinks for the bargain price of $7.85 USD. Promising admission to a water park with cheap access to alcoholic drinks is no doubt an efficient way of convincing tourists to sign up for a hands-on dolphin encounter. Even though the tactic is tasteless, many travel operators endorse it.
Dolphin interaction programs have become so popular that the captive dolphin industry has invented a variety of dolphin experiences to choose from. Among them are the dorsal tow, the foot push, the royal swim, the hand shake, the hug and the kiss. These swim programs reduce dolphins to commodities that can be marketed and sold, in much the same way someone might sell a slice of pizza or an alcoholic beverage. The tourists get to choose which dolphin experience they want, and it is the dolphin's task to provide it. These are dolphins with jobs.
Travel operators who sell excursions to captive dolphin swim programs are a big part of the reason wild dolphins are still being captured and new dolphinariums established in some of the world's tourist hotspots. Travel operators belligerently tout captive dolphin encounters as "a magical experience" and conceal from their customers the truth about the violent captures that take place to meet consumers' demand for face-to-face dolphin encounters. They apparently give little, if any, thought to the suffering of free-roaming dolphins as they are violently ripped from their families and sentenced to lifelong confinement in tanks and sea cages where their sole purpose is entertaining crowds of tourists. Nor do they seem to care about the ones that are bred in captivity and will never experience freedom in the open ocean. Successfully convincing consumers to "Book NOW!" seems to be all that matters to them.
There did seem to be some hope for the dolphins last year, when Thomas Cook stopped promoting and selling tickets to certain animal attractions, citing animal welfare issues. The company announced that it would audit every animal excursion that it sells tickets to. Among the attractions that Thomas Cook no longer promotes are Ocean World in the Dominican Republic and Sealanya Dolphinpark in Turkey, both of which feature a captive dolphin swim program. On July 29, 2018, British media outlets announced that Thomas Cook will also stop selling excursions to Loro Parque in Tenerife, Spain, and SeaWorld in the United States, where orcas are held captive and used in shows. Thomas Cook will also stop ticket sales to Miami Seaquarium where the orca known as Lolita has languished in a small tank since her capture 48 years ago. Because of Thomas Cook's decision to cancel its support, these three facilities will lose thousands of paying customers.
However, Thomas Cook remains a huge part of the problem. At the time of this writing, it continues to promote the captive dolphin swim programs and dolphin shows at Dolphinaris Cancun and other facilities in Mexico as well as ones in Cuba, Jamaica, Spain and the United Arab Emirates. Delfinario in Veradero, Cuba, keeps several bottlenose dolphins trapped in a small, shallow body of water and uses them in repetitive shows and a swim-with-dolphins program. This facility has purchased several dolphins that were captured from Cuban waters. Tourists who buy tickets to kiss and ride the dolphins by their dorsal fins hear nothing about that, of course. All they hear is how magical it is to kiss, ride and hug a dolphin, and without realizing it, they help finance future captures of dolphins. Thomas Cook has convinced countless travelers that the experience is an absolute must: "If you've always wanted to swim with dolphins, then don't miss the opportunity to do so on your holiday to Varadero. … There are two shows a day where you can marvel at the dolphins' aquatic and air acrobatics. Then there's the opportunity to get up close and personal on a swim with the dolphins." Its website also advises, "Be sure to have your photo taken with them so you can remember the experience for a lifetime!" Cuba Travel Network also sells tickets to the dolphin swim program—95 US dollars will get you 30 minutes with a dolphin. To make the experience even more fun, the ticket price includes Cuban cocktails.
In October 2007, between 28 and 30 wild-caught Indo-Pacific bottlenose dolphins were sent on a 30-hour flight from the Solomon Islands to the dolphinarium Dolphin Bay, which is located at the oceanfront resort Atlantis the Palm in Dubai, United Arab Emirates. How many dolphins died during the brutal capture remains unknown. Dolphin Bay is not a bay at all, and while tourists enjoy the luxuries of staying in a 5-star hotel, the dolphins are locked up in a minuscule man-made enclosure.  Thomas Cook lures customers with this happy description: "Get close with dolphins, swim with them while enjoying your family trip to Dubai at Dolphin Bay." On its website, Dolphin Bay adds to the rosy picture by promising its customers that a ticket to a dolphin encounter gives them the opportunity to "experience touching, hugging, holding fins and playing with one of our dolphins."
Among the featured dolphin encounters are the Dolphin Adventure, the Royal Swim and Dolphin Photo Fun. The website describes the Dolphin Adventure as "A one-of-a-kind dolphin experience" and includes what is advertised as "a thrilling belly ride." Dolphin Bay adds, "Connect to your dolphin through deep water hugs, kisses and dancing." With the term connect, Dolphin Bay creates the illusion that the dolphin encounter constitutes real and loving contact between the tourist and the dolphin—but not just any dolphin – "your dolphin." However, encounters between captive dolphins and tourists are staged and could never bring about any true bond between dolphins and humans, as they are not based on any mutual understanding and respect. These encounters are all about what dolphins can do for humans, and I suspect that few tourists ever consider how the dolphins feel about the arrangement.
Dubai has another captive dolphin facility called Dubai Dolphinarium. Thomas Cook advertises this facility, too, even though it has purchased dolphins from the infamous dolphin captures that take place every year in Taiji, Japan. Those dolphin captures are excruciatingly brutal, as has been documented extensively by our Dolphin Project Cove Monitors.
Thomas Cook describes the dolphinarium this way: "Dubai Dolphinarium is the first indoor air-conditioned dolphinarium in the Middle East. It showcases bottlenose dolphins and fur seals displaying their talent and skills as they dance, juggle, sing, play ball and jump through hoops." Thomas Cook apparently sees no problem in capturing dolphins and confining them for life inside an air-conditioned building in the Arabian Desert. Despite the cruelty, Thomas Cook convinces its customers that Dolphin Bay is all about family fun: "Take the unique opportunity to interact with dolphins by kissing, hugging, touching, dancing and playing ball with this fascinating creature."
During swim-with-dolphins programs, dolphins are forced to act in ways they wouldn't if they had the freedom to choose. Trapped in tiny tanks and sea cages, they have lost everything that is natural and purposeful to them. During the forced encounters with tourists, crowds of people invade the little space they have left, demanding to touch, kiss, ride and hug them. To conceal the exploitative nature of these encounters, dolphinariums and travel organizers present dolphins as fun-loving creatures who enjoy these encounters with humans. I have seen travel operators promote dolphins as "flirty" and eager to be petted and receive intimate rubdowns by tourists. Advertisements for swim-with-dolphins programs are filled with erotically charged exclamations such as, "Enjoy private time with a dolphin," and "Get ready for wet kisses!" One of the many travel agencies that promotes dolphin swim programs in Mexico promises its customers the opportunity to "cuddle and flirt with these cheeky and charming creatures." If that's not enough appeal, there's "Get to know your new flippered friends with warm hugs, kisses, and a thrilling one-on-one dolphin ride!"
Turkish tour operator Panda Travel promotes visits with, "If you have always wanted to touch a dolphin, this is the best chance for you. … The animals are specially trained to play and be pet [sic] by swimmers." With that wording, Panda Travel, probably without realizing it, admits that the dolphins are not willful participants in the encounters. They have been trained to tolerate them. And that is really the heart of this issue.
Dolphins need to eat, and their hunger is what drives the commercial success of swim-with-dolphins programs around the world. Captive dolphins are unable to forage on their own. This enables their trainers to manipulate them with food rewards to "interact" with tourists. The trainers have various hand signals to tell the dolphins what they need to do to get the fish that they so desperately want: kiss a tourist, take a tourist for a ride, perform the foot push and so on. The dolphins are kept hungry prior to the sessions to motivate them to cooperate. As soon as the dolphins have completed the command, they rush to their trainer for a food reward. When the session is over, the tourists exit the enclosure and move on to their next holiday adventure. They can now put a check mark on their bucket list where it says, "Swimming with dolphins."
To the dolphins, there is no such thing as putting a check mark anywhere. To them, the encounter sessions never end, and as the first group of tourists gets ready to leave, the dolphins are instructed by their trainer to greet the next group of customers with hugs, kisses and thrilling belly rides. What tourists perceive as a few moments of vacation fun constitutes lifelong misery for dolphins. These are free-ranging, opportunistic foragers who, in nature, would swim many miles each day. A tank or a cage in the sea could never provide them with adequate living conditions. Captive dolphins will never catch a live fish or surf the ocean's waves. They will never use their sonar to navigate and explore their vast ocean world. They will spend the rest of their lives performing tricks for food rewards of dead fish and dealing with crowds of tourists who all want a piece of them.
Even so, dolphinariums deceive tourists into believing that dolphins are enjoying being petted, and that they even want to be friends with them. "Make a friend that will live in your heart forever," SeaWorld says about its swim-with-dolphins program at Discovery Cove in Orlando. "Get surprised by the speed of your new dolphin friend as you ride on his belly or through the water on a boogie board. "Book NOW!" says Dolphin Discovery about one of its dolphin encounter programs in the Caribbean. "Dolphin programs are all about love; you receive kisses and hold on for rides!" exclaims travel organizer Aquaworld, which is based in Cancun, Mexico, and promotes itself as "Water Fun Experts." Aquaworld even promises its customers that a hands-on encounter with a dolphin creates a "profound emotional connection." But captive dolphin swim programs do not create any real connection between humans and dolphins. They have nothing to do with friendships. A real friendship is not based on one party exploiting the other to obtain a feel-good experience. In a real friendship, both parties want the contact and benefit from it. What goes on between a trapped dolphin and a fun-seeking tourist during a captive dolphin swim program is the opposite of friendship. One participant gets to choose the interaction, while the other is forced into it. One participant is free; the other is confined. One participant can leave when it is over; the other never will.
The word choices of the dolphinarium industry and travel operators are revealing in that they sound a lot like prostitution. And that is exactly what we are dealing with: Captive dolphin swim programs cash in on dolphins that are forced to make themselves physically available to hordes of tourists wearing swim suits. For travel operators to cash in on the exploitation is both repugnant and unethical. Dolphin Project hereby encourages Thomas Cook and all other travel operators to finally stop adding to the suffering of dolphins by endorsing their capture, captive breeding, confinement and commercial exploitation. The time has come for them to help stop the abuse by cancelling excursions to all captive dolphin shows and swim-with-dolphins programs.