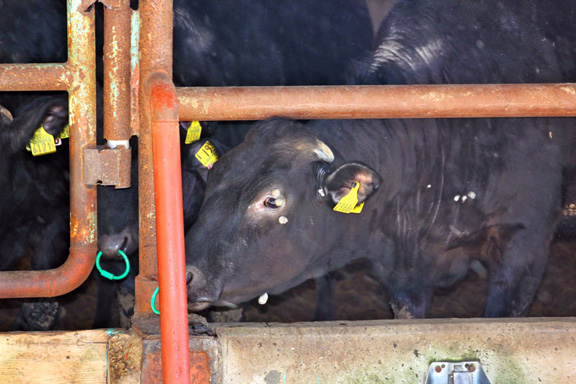 06
Mar
by Tim Burns
Cove Monitor
Ric O'Barry's Dolphin Project

(NOTE:  With the end of the dolphin hunts for this season, Tim Burns, our volunteer Cove Monitor in Taiji, is following up on several related issues.  Our thanks to his persistence and dolphin protection efforts! — Ric O'Barry)
If eating dolphin meat is not as popular in Japan as it once was, what is happening to all the dolphins they slaughter?
This is something we have been looking into for several years now, and the answer is not what you might think.   Since the drive hunts are really about captive dolphins, for which the hunters get far more money than they get for dolphin meat, something must be happening with all the dolphins being killed.
We are being told several things are happening, and all are very alarming due to the high mercury content of dolphin meat.   The first thing we discovered was the use of ground dolphin meat in the aquaculture world for fish farming.  The problem here is the toxic meat of a top predator is passing the toxins down to a fish lower on the mercury chain.  So a species normally thought to be fairly safe from mercury is now likely highly elevated in the chain without the Japanese consumer realizing this.
Second we have been told by several sources that dolphin meat is also ground up and used in animal feeds.  It is unclear if it is being used in dog/cat food, or chicken/cow and pig feeds.  (From time to time, whale meat for pets has been found advertised on the Internet in Japan.)   Nonetheless it is toxic for all to consume.  This year we visited a small local cow farm nearby and were stunned at the number of tumors, growths and skin disorders on the cows.   It was very concerning to see that the majority of these beef cows were affected by these conditions.  Another startling thing we found was the use of dead crows hung upside down from the trees and animal stalls to ward off other crows from entering to eat the feed.  This was very surprising.  In my many trips into the Katsuura mountain range, I learned that the crow is considered sacred.  There are many mythological stories worshiping crows in Japan, so you can see my surprise when Cove Monitor Heather Hill and I found them hanging from trees at the farm.
Cow on Japanese farm with skin growths.  Photo by Tim Burns.
Cow on Japanese farm with skin disease.  Photo by Tim Burns.
One of the most alarming is the notion that they may be using dolphin remains to make fertilizers.  It would be deeply concerning that they might be taking one of the highest mercury-laced animals in the sea and putting that meat into the soil to grow vegetables.   Instead of protecting its people it appears that Japan could be harming its citizens by following such practices. 
The morning after a large kill, we followed a truck loaded with dolphin remains about 2 hours outside of Taiji.  We finally approached the truck to document it and were informed by a very startled driver that the remains were not dolphin, although he refused to allow us to see or photograph anything in the truck.   He informed us it was "for decomposing".
It has become increasingly clear that the Fishermen's Union in Taiji has much more to hide than the slaughter of dolphins.  Tarps surrounding the FU, and everything taken in or out is done under tarps.   Great lengths are taken to prevent anyone from following or documenting what is happening to the remains.
Still it is clear the dolphin kill numbers are down, and less are taken each year.  Human consumption is way down, yet the dolphin meat and remains have to go somewhere.
All of this secrecy, expense,  and disregard for the health of the Japanese people just to continue the non-tradition of the captive dolphins industry.