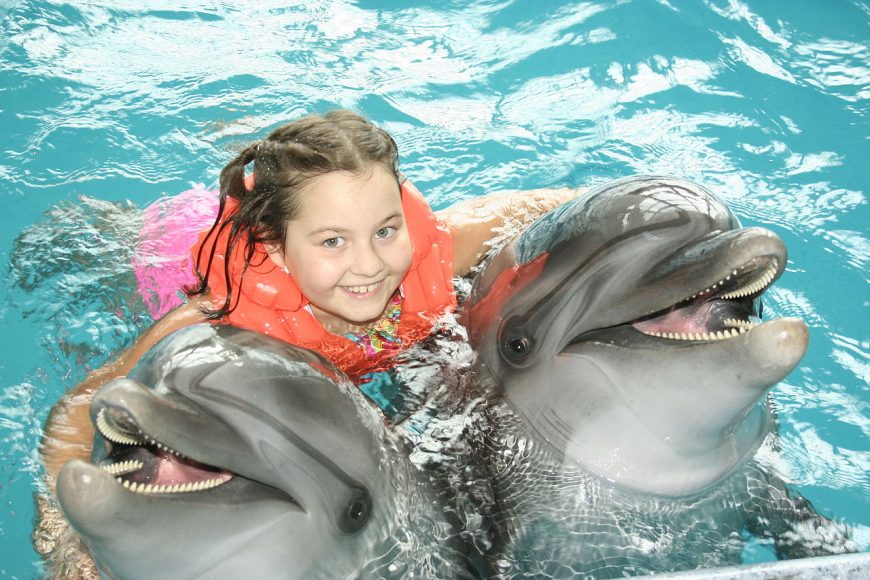 04
Apr
Cute and friendly with an anatomical smile that draws you in, swimming with bottlenose dolphins tops many a person's bucket list. By exploiting that desire, marine parks who charge hundreds of dollars to satisfy your dreams will take your money with little to no accountability for anything that could go wrong.
When significant news of SeaWorld ending its breeding program for orcas hit media outlets around the globe, it was tempered by the corporation's latest project. This "significant addition", close to opening in San Antonio, Texas is called 'Discovery Point'. It's a massive expansion that will allow guests to swim with dolphins in 'Dolphin Lagoon', beluga whales in 'Beluga Bay' or sea lions in 'Sea Lion Shallows.'
According to the new promotional website, prices are $155 for a dolphin or sea lion swim and $125 for the beluga interaction. Actual water time with the dolphins lasts for 20-30 minutes with visitors able to enjoy a "dorsal fin tow ride back to shore."
The financial prospects of swim-with programs are ginormous for the marine park industry. If the updated proposals for the care and welfare of whale and dolphins in captivity are adopted, the USDA's Animal and Plant Health Inspection Service or APHIS, will provide them a welcome boost.
Now called "interactive programs", APHIS views these programs as benign and are recommending adding an additional hour to public-dolphin interaction times:
We note that interactive programs have been operating for over 20 years without any indications of health problems or incidents of aggression in marine mammals, as evidenced by medical records maintained by licensed facilities and observations by experienced APHIS inspectors.
With 'official' reporting for incidents suspended for years, it was left to the facility's discretion to report accidents themselves. Nobody has died yet, but should a government agency base its policy on that when there are existing incidents on record?
SeaWorld Orlando ended its feeding program last year, but in 2012, eight-year-old Jillian Thomas was feeding a dolphin at SeaWorld Orlando when it partially launched out of the water and grabbed the girl's hand. In the same year, a Swedish couple on their honeymoon at Dolphin Park, Isla Mujeres in Mexico were attacked by a dolphin named Picasso. A pissed-off Picasso went on to attack several other participants as well in what visitors described as a scene from the movie 'Jaws.'
There were several other incidents prior to that:
2008. Annie, a dolphin housed at Dolphin Academy Curacao, landed on top of three people.
2008. At an undisclosed location, a dolphin suddenly gains speed and hits a young girl in the process.
2009. Dolphin Encounter in the Bahamas, another young girl was bitten by a dolphin.
2009. Watch the YouTube video at end of this blog. It is unknown where this incident took place but pleasure soon turned to panic when swimmers endured a deliberate attack by a captive dolphin. At one point, the trainer is forced to enter the water in a pointless attempt to intervene.
2009. A similar incident to the one above occurred in Punta Cana, Dominican Republic. The video of the encounter is entitled, "The Day that a Dolphin Almost Killed Me."
2010. Another SeaWorld incident saw a dolphin at SeaWorld rising out of the pool to nudge a child in the stomach.
A recently deceased dolphin named Beetle became too much to handle for the SeaWorld Orlando park. A known biter, Beetle harmed several people including a seven-year-old Port Orange boy, and a six-year-old Georgia boy. The first child was encouraged by his mother to pet the dolphins again and the second child "didn't want to see dolphins anymore." As for Beetle, he was ousted — along with another problem dolphin named Cosmos, to 'The Mirage' in Las Vegas, Nevada. Both of these animals were captive born.
It takes just one groped animal having an off day to turn a dream into a nightmare.
If the incidents listed above do not disconcert you, reading the waivers that a participant must sign prior to a swim-with encounter, should. Discovery Cove's waiver for children contains the following language:
I, individually and on behalf of Minor Participant, agree to RELEASE, to the maximum extent allowed by law, SEA WORLD OF FLORIDA LLC its parents, subsidiaries, related and affiliated companies, including but not limited to SeaWorld Parks & Entertainment, Inc. and all their officers, directors, shareholders, members, employees, agents, successor and assigns (the "Released Parties") from any and all claims, losses, demands, damages, expenses, lawsuits, causes of action and judgments …
It continues:
I further agree to defend, indemnify and hold harmless the Released Parties to the maximum extent allowed by law, from any expenses, attorneys' fees, loss, liability, damages or cost they may incur arising from any claim or lawsuit brought against them for any injuries, wrongful death, losses or damages of any kind that have been released or discharged by this Release whether caused in whole or in part by the NEGLIGENCE, STRICT LIABILITY or other FAULT of the Released Parties.
For those who find the legal terminology too overwhelming, the waiver's final warning about potential risks leaves little doubt. It's presented below at it appears on the form:
READ THIS FORM COMPLETELY AND CAREFULLY. YOU ARE AGREEING TO LET YOUR MINOR CHILD ENGAGE IN A POTENTIALLY DANGEROUS ACTIVITY. YOU ARE AGREEING THAT, EVEN IF THE RELEASED PARTIES USE REASONABLE CARE IN PROVIDING THIS ACTIVITY, THERE IS A CHANCE YOUR CHILD MAY BE SERIOUSLY INJURED OR KILLED BY PARTICIPATING IN THIS ACTIVITY BECAUSE THERE ARE CERTAIN DANGERS INHERENT IN THE ACTIVITY WHICH CANNOT BE AVOIDED OR ELIMINATED. BY SIGNING THIS FORM YOU ARE GIVING UP YOUR CHILD'S RIGHT AND YOUR RIGHT TO RECOVER FROM THE RELEASED PARTIES IN A LAWSUIT FOR ANY PERSONAL INJURY, INCLUDING DEATH, TO YOUR CHILD OR ANY PROPERTY DAMAGE THAT RESULTS FROM THE RISKS THAT ARE A NATURAL PART OF THE ACTIVITY.
SeaWorld – to its credit, is wrapping up participants tighter than a tourniquet. It also retains the right to use your child's image – and to alter that image in the manner it chooses without your approval or objection:
The irrevocable right and permission to photograph or otherwise record me in connection with the Dolphin Interaction Program at Discovery Cove (the Program), and to use the photograph or recording ("Photograph") for all purposes, including advertising and promotional purposes, in any manner in any and all media now or hereafter known, in perpetuity throughout the world, without restriction as to alteration. I waive any right to inspect or approve the use of the Photograph, and acknowledge and agree that the rights granted by this Release are without compensation of any kind.
With the flourish of a pen, parents are signing away a child's rights for a 20-30 minute swim-with-dolphin session that could have unintended and potentially fatal consequences. What one has to consider is whether the thousands of incident-free interactions are worth one life-altering injury or death? Parents want to fulfill their child's dream, and Discovery Point's new attraction will help them to do that with little to no risk.  What is more perplexing, is the endorsement by a federal agency whose decision is solely based upon setting the fox in charge of the hen house.
Including stillbirths, 20 orcas and 133 dolphins have died at SeaWorld in the last 24 years. Dolphin Project will continue our campaign to educate the public in the hope that each and every person will take the pledge to not buy a ticket to a dolphin show.
Featured Image: Darkenrau – Own work, CC BY-SA 3.0/Wikimedia Commons
Click here to Take Action