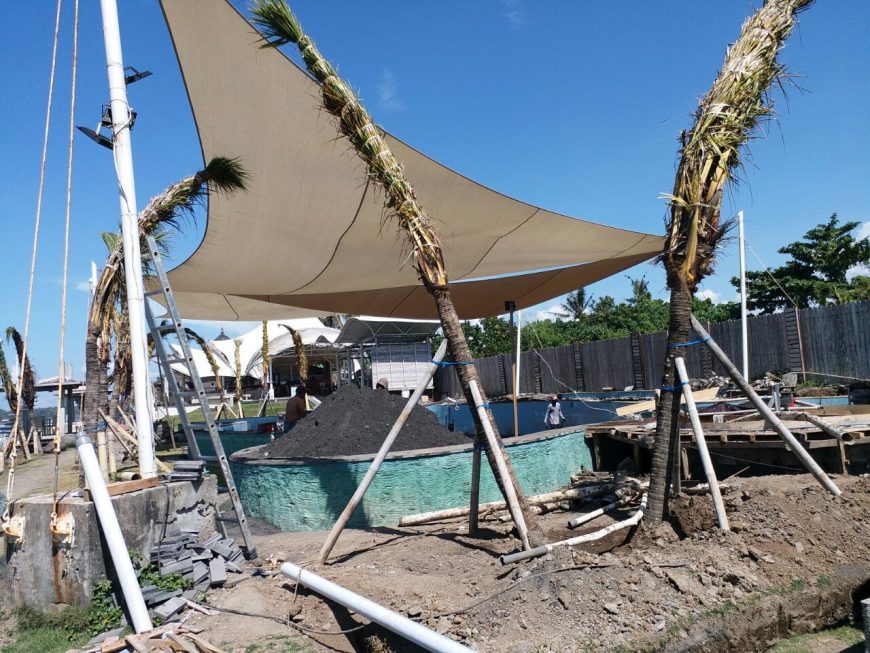 13
Apr
Bali, Indonesia: The pools are empty at Wake Bali Dolphin! The tourist attraction in Keramas Beach in Bali, known for its dolphin-swim programs, withdrew its permits after protesters successfully brought awareness to the poor conditions in which dolphins suffered.
First opened in August 2014, the park featured a 10 x 20 meter chlorinated pool containing four wild-caught bottlenose dolphins. While Wake Bali claimed the mammals were "previously stranded and rescued by fishermen"* in reality, they were illegally-caught from the wild waters in the area of Java for the purposes of interacting with paying tourists. Dolphin Project held a protest in front of the facility on opening day, where our activists were attacked and injured.
*Source: Wake Bali Dolphin website
Dolphins are very intelligent creatures. They may give you a dorsal pull and or a foot push maybe even both, a kiss, a dance, perhaps you will get a splash or two and have a real up close experience." ~ Wake Bali Dolphin website
Swim-with-dolphins programs are based on a reward system. Dolphins don't interact with people because they want to share a dance, rather, these are learned behaviors where the mammals are trained to perform in order that they get fed.
In March of last year, our team on the ground photographed a dolphin at Wake Bali whose teeth had been filed down to blunt pegs. It's quite likely that in order to prevent patrons from being accidentally injured, the dolphin's teeth were mechanically blunted. The owners of Wake Bali stated the dolphin lost its teeth due to age-related changes – which was entirely false.
Indonesia is home to many operations involving illegally-caught dolphins, including the horrific traveling circuses, where dolphins are carted from city to city and forced to perform. To circumvent existing laws preventing the deliberate capture of dolphins, local fishermen capture the dolphins in the cover of darkness, claiming they were rescued from fishing nets. And this is exactly how the dolphins ended up at Wake Bali, subjected to daily abuse in the interests of profit.
Dolphin Project has been actively campaigning against Wake Bali and dolphin exploitation in Indonesia for several years. We have blanketed Bali with powerful anti-captivity graffiti, installed electronic billboards throughout Indonesia and digital ads at the Bali airport, and created a traveling educational puppet show for children. In December of last year, Dolphin Project confiscated two wild-caught dolphins in Karimunjawa, Indonesia, destined for the traveling circuses. The mammals were brought to Camp Lumba Lumba, Dolphin Project's permanent dolphin rehabilitation center, located inside the Karimunjawa National Park. While one dolphin succumbed to injuries sustained during their capture, the second spinner dolphin, named Munjawa, was successfully released into her home range near where she was first captured.
We applaud the Ministry of Forestry for shutting down Wake Bali. The next step is for the government to put a permanent end to the abusive traveling dolphin circuses, of which the four dolphins have been returned.
Dolphin Project needs your help. Please TAKE ACTION now and write the Indonesia Ambassador in your country, asking that permits be withdrawn from the two companies, Pt Ancol and PT WSI, licensed by the Indonesian Forestry Department to operate the traveling dolphin circuses.
CLICK HERE for a list of worldwide embassies of the Republic of Indonesia.