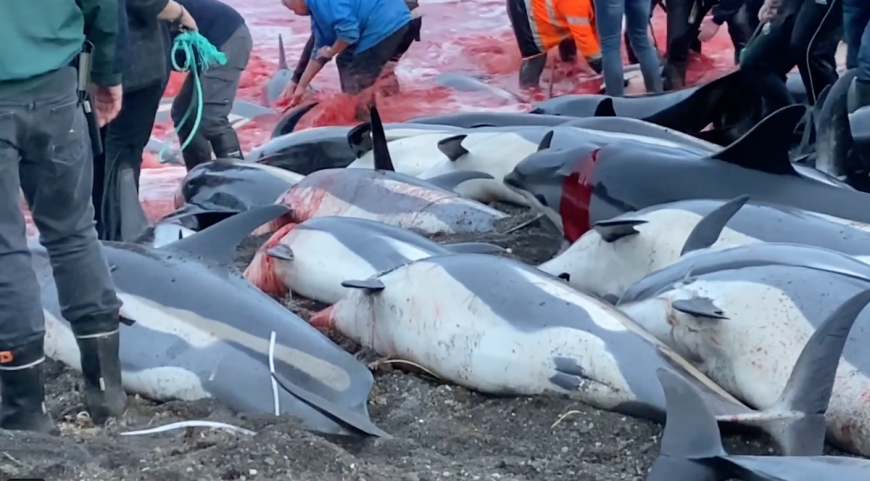 18
Sep
"I am having a difficult time finding the right words to describe the pain and helplessness that I'm going through after the primitive, coldhearted, and completely unacceptable massacre of more than 1400 dolphins in the Faroe Islands on September 12th, 2021. Many other Faroe Islanders share my sentiments. At this point, the slaughter is no longer a cultural tradition. It has become a blood sport, plain and simple." This is how Ingi Sørensen, a Faroese author, diver, and underwater photographer, describes his reaction to the massacre of a super pod of 1,428 Atlantic white-sided dolphins in the Faroe Islands last week. He has spent most of his life in the eighteen islands, an autonomous territory of Denmark, in the North East Atlantic.
The eradication of the super pod occurred on the island of Skálafjørðuras. According to an online account, hunters spotted the pod far out at sea. For several hours, they employed speed boats and jet skis to chase the dolphins into the shallow water at Skálabotnur beach, leaving the dolphins with no chance to escape. Once stranded, they killed the entire pod, wiping out its gene pool forever. Hundreds of onlookers had gathered on the beach as the carnage began, and due to the sheer number of dolphins, the situation quickly erupted into turmoil. This was possibly the largest pod of dolphins ever killed in a single day in the Faroe Islands. (The second-largest hunt is believed to have taken place in 1940, when 1200 pilot whales were killed in one day.)
News of the massacre reached several international news outlets, and Sjurdur Skaale, a Faroese politician representing the Faroe Islands in the Danish Parliament, gave an interview to Danish news media. Although in favor of Faroese pilot whaling, Skaale expressed concern with the consequences of this particular killing. He said the dolphin pod was too large, and there were not enough people on the shore to deal with it. The slaughter went on for too long as a result, he said, adding that the slaughter has created a huge debate in the Faroe Islands. He commented, "The majority of people agree that something like this can never happen again."
Another critic is Heri Peterson, who is chairman of the local pilot whale hunting association. Speaking to the Faroese news outlet in.fo, Peterson said: "I'm appalled at what happened. The dolphins lay on the beach thrashing for far too long before they were killed."
Meanwhile, from the Ministry of Fisheries of the Faroes Islands, Jakob Vestergard argues that the slaughter of dolphins on September 12th was without any complications. In a Faroese news outlet, he is quoted as saying: "According to information that I have received, every single animal was put down in a responsible manner." Video footage obtained by Norwegian Sea Shepherd volunteer Samuel Rostøl proves Vestergard's words are woefully wrong.
The unedited video footage lasts nine and a half minutes and makes for a gut-wrenching watch. Rows of dead and dying dolphins are lined up on the shoreline with deep cuts to their necks while blood-red waves wash over them. Meanwhile, men (and possibly women—I can't tell) equipped with long pieces of rope focus their attentions on the dolphins in the surf that have not yet been slashed with knives. These dolphins have rope tied around their tail flukes so the men can drag the still-living mammals onto the beach to be killed. The scene is characterized by a lot of turmoil, yelling, and commotion. No, not commotion. Chaos. There is the sound of laughter as dolphins thrash violently in the blood-filled water, in futile attempts at fighting off their attackers. Other dolphins further out in deeper water swim in the blood of their dismembered pod members. Just imagine the terror they experience as they witness the deaths, unable to escape that same fate.
One of the most horrific scenes shows a dolphin that someone hauled onto the beach lying with several other beached dolphins. The dolphin's neck is sliced, just like the others, but in spite of its gaping wound, the dolphin is still alive, wiggling and moving its head and tail fluke up and down, over and over. A man casually approaches the dolphin and leans over it with a knife in his right hand. He starts cutting deeper into the neck, but the dolphin doesn't die. It continues moving its head, so the man resumes cutting away at it, in much the same way one might cut into a loaf of bread. Another man steps on the mutilated dolphin's tail fluke with his rubber boot to make it stop moving, and at this point, the dolphin starts shaking violently, turning its entire body around and landing on its side, on top of another dolphin.
I feel sure that incidents of brutality such as the ones disclosed in Sea Shepherd's footage happen repeatedly during these hunts. And while the man keeps sawing away at the dolphin's neck, as if trying to make it die by cutting its entire head off, one hears casual and even cheerful chatter from onlookers, including children, as if none of this is any big deal. There is no sign of any empathy, or even sympathy, despite the scene being so wildly cruel. It is impossible to see it as anything other than raw and callous savagery gone completely mad.
The Faroese slaughter of pilot whales and other smaller dolphin species has received much international attention due to its violent nature. But there is more: Dolphins are at the top of the food chain, which means they are exposed to the greatest accumulation of ocean pollution. As a result, mercury and other harmful substances contaminate their meat and blubber. Consumption has been linked to serious health risks in humans, and in 2008, two Faroese medical doctors issued a warning against consumption. Hunts have continued nonetheless. Last year, hunters killed 576 pilot whales and thirty-five Atlantic white-sided dolphins. Pro-whalers, as always, defended it by saying the hunt is an essential part of Faroese food culture.
Hunters in the Faroe Islands kill an average of 600 long-finned pilot whales and 250 smaller dolphin species per year, according to information publicized online. White-sided dolphins, bottlenose dolphins, and Risso's dolphins are among their targeted species. While supporters of the slaughter continue to maintain that consumption of pilot whales is an integral part of life in the Faroes, the carnage on September 12th has made some people question what will happen to the meat and blubber from an entire super pod of dolphins. A Faroese citizen, who does not want to be identified publicly, wrote to me and said she does not think there is any way the locals are going to consume it all. "What were they thinking, killing this many dolphins all at once? Many of us are in shock at what they did," she stated.
The slaughter has caught the attention of Faroese Prime Minister Bárður á Steig Nielsen. On the Faroese government's website (government.fo), he states: "We take this matter very seriously. Although these hunts are considered sustainable, we will be looking closely at the dolphin hunts, and what part they should play in Faroese society. The government has decided to start an evaluation of the regulations on the catching of Atlantic white-sided dolphins."
Ingi Sørensen spends a lot of his time diving off the coast of the Faroe Islands. He feels strongly about the slaughter of pilot whales and other cetaceans and wants to see it come to an end, once and for all. He says, "The words 'culture' and 'tradition' should not be used as an excuse for these hunts to continue. I can't wait for the day when pods of whales and dolphins can swim past the beautiful Faroe Islands without being subjected to harassment, death, and butchery. Let´s admire them from a distance and leave them be. As a Faroese citizen, I hope that such a relationship with these magnificent beings—rather than the pain and agony caused by killing them—will become part of our culture in the future."
Click to watch video: https://fb.watch/85V911bFpG/
Warning: graphic video
Credit: Facebook / Sea Shepherd Faroe Islands Campaign
Featured image: Pacific white-sided dolphins struggle amidst a mass slaughter. Credit: Facebook / Sea Shepherd Faroe Islands Campaign