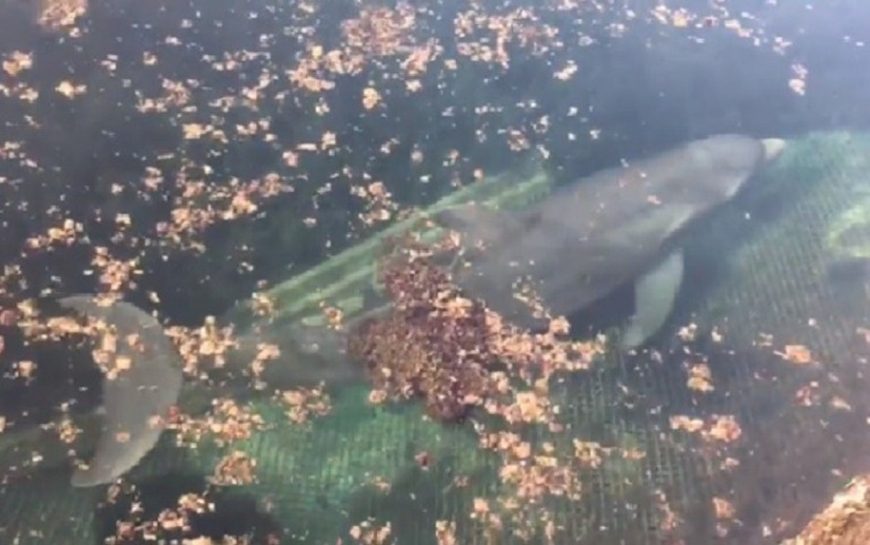 17
Jul
An anonymous source in Mexico has sent Empty the Tanks concerning video and photos of the dolphin tanks at the Dolphin Discovery Riviera Maya location. In the video, a dolphin can be seen swimming in water filled with significant algae growth and other contaminants. The photos and video were taken on July 15, 2020, at the Dolphin Discovery Riviera Maya location. Empty the Tanks had also received photos from the same location earlier in the week, demonstrating that this situation has gone on unaddressed for a number of days.
According to research done by Global Coral Reef Alliance, one captive dolphin produces the same amount of excrement as about 4-6 people. A Dolphin Discovery pen with 10-15 captive dolphins is equivalent to the sewage of 40-90 people going directly into the same netted area of water. Sources have told Empty the Tanks that a lack of water maintenance and filters is creating the issue in the dolphin pens at Dolphin Discovery Riviera Maya.
Prior to the COVID-19 pandemic, Dolphin Discovery had around 100 employees working at the Riviera Maya location. Empty the Tanks has been told they now have about 15 staffers working, which appears grossly inadequate to ensure proper care standards for the resident animals. Marine mammals already suffer greatly in captivity, but now their suffering has increased exponentially due to a lack of maintenance at multiple Dolphin Discovery locations.
Sources also alerted Empty the Tanks to alleged eye infections of sea lions living at the Dolphin Discovery Los Cabos location. We are told the eye infections are so severe that one sea lion has difficulty opening its eyes. The anonymous source told us that "the water quality is terrible at this facility and dead fish can be seen floating on the surface of the water."
Earlier this year Empty the Tanks acquired water samples from the dolphin tanks at one Dolphin Discovery location in the Quintana Roo region. These samples showed their level of coliform bacteria in the water was higher than that allowed by the official Mexican standard. These samples were taken before the COVID-19 pandemic and while tourists and other customers were still swimming with dolphins in their tanks. An independent lab conducted the tests on the water samples.
Empty the Tanks has contacted PROFEPA, the federal environmental protection agency in Mexico, about the conditions at both Dolphin Discovery locations and asked that they take immediate action to address the welfare of the dolphins and other animals living there. We have asked that a thorough investigation be conducted at these locations, as well as the other captive facilities throughout the country. PROFEPA has failed to respond to prior requests by our organization to enforce their own guidelines to ensure the safety of captive marine mammals at facilities within Mexico. We urge that action be taken immediately by Mexican authorities to address this situation. You can contact PROFEPA to file a complaint and request an investigation by emailing [email protected].