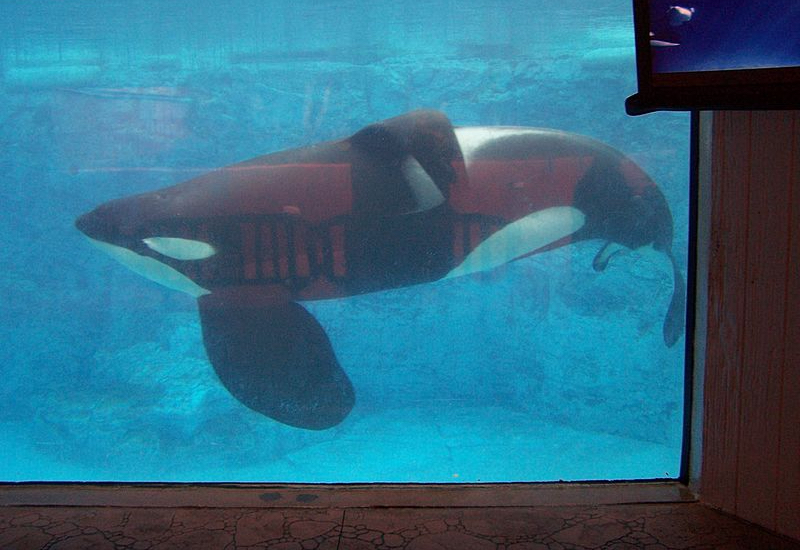 06
Jan
January 6, 2017
: Tilikum, of which the 2013 documentary "
Blackfish
" was based, has died at SeaWorld Orlando. On March 8 of last year, the park 
announced
that the 36 year-old whale had a bacterial lung infection, from which there was no cure. While we have been anticipating his passing, the news is no easier to accept.
This is truly an issue of quality versus quantity. Regardless of tank size, or how long he endured, Tilikum had absolutely no quality to his life. He was deprived of a normal, wild existence, ripped from his family, and forced into the entertainment business – the business of profit." ~ Ric O'Barry, Founder/Director of Dolphin Project
From the moment the two year-old male orca was captured off the coast of Berufjördur, Iceland on November 9, 1983, his life would be forever changed. Gone would be the learning and social bonding experienced as an active member of a family pod. Instead, he was transported to the Hafnarfjördur Marine Zoo, near Reykjavík, where he was held in a concrete tank for almost one year.
In late 1984, he was transferred to Sealand of the Pacific, on Vancouver Island, British Columbia. It is there where he was named "Tilikum," meaning "friend" in Chinook. He would be treated like anything but. There, he was bullied by two female orcas, Haida and Nootka. Food was withheld until tricks were learned. When these routines were mastered, the orca show was performed every hour for eight hours a day, seven days a week.
Tilikum developed ulcers which were treated with medication. Each evening, he was placed in a tiny pool, where he would stay for 14 hours until the park opened the following morning. The pool was 31 ft long x 23 ft wide x 12 ft deep. Tilikum was 20ft long.
Watch: Tilikum kept in a tiny tank, Sealand of the Pacific, Credit: CTV News Vancouver
A combination of stress, bullying, sensory & social deprivation and abusive incarceration would form the basis of Tilikum's life. On February 20, 1991, trainer Keltie Byrne died when her foot was grabbed by three orcas, including Tilikum, who pulled her into the tank. She would be the first trainer ever killed by orcas at a marine park. Unable to escape the stain of her death, Tilikum was sold to SeaWorld Orlando on January 9, 1992 and Sealand closed its doors.
Stressed and bored, he would chew on metal gates, causing severe damage to his teeth. And again, the large male would be roughed up by other aggressive female whales, with nowhere to escape. But SeaWorld had a plan. Tilikum, aside from splashing paying patrons during orca shows, would be used extensively as a breeding bull. He would sire a whopping 54% of SeaWorld's captive bred orcas, for a total of 15 live offspring, and six non-full term calves.
On July 5, 1999 a man who trespassed into the park, Daniel Dukes, was found dead, draped across Tilikum's back. A decade later, on February 24, 2010, he would pull SeaWorld's senior orca trainer, Dawn Brancheau, into his pool, killing her. After being implicated in three human deaths, he was segregated in a tiny tank, limiting his contact with trainers and other whales. One year later, he was back performing in SeaWorld's shows.
Following Brancheau's death, SeaWorld suddenly seemed to be on everyone's radar. In August, 2010, the United States Department of Labor, Occupational Safety and Health Administration (OSHA) issued citations to the park, including fines totaling $75,000 for three safety violations. Said Cindy Coe, OSHA's regional administrator in Atlanta, GA, "SeaWorld recognized the inherent risk of allowing trainers to interact with potentially dangerous animals. Nonetheless, it required its employees to work within the pool walls, on ledges and on shelves where they were subject to dangerous behavior by the animals."
Ex-trainers also spoke candidly about the culture of working with the whales. And, following an article written in August, 2010 by Tim Zimmerman titled "The Killer in the Pool," filmmaker Gabriela Cowperthwaite produced the documentary "Blackfish." The film challenged us to consider our relationship to nature, revealing how little we have learned from these highly intelligent and enormously sentient mammals.
Tilikum is a symbol to me. His life was a microcosm of what's killing the planet: international corporate greed." ~ Ric O'Barry, Founder/Director of Dolphin Project
Dolphin Project supporter Harry Styles of One Direction called out SeaWorld during their U.S. tour kickoff concert in San Diego, in July, 2015. He became passionate about dolphins after watching "The Cove" and "Blackfish."
And he got it right: "Don't go to SeaWorld!"
These 4 words caused more then a 400% increase in negative comments online about SeaWorld.
While the "Blackfish effect" continued to plague SeaWorld, on November 9, 2015, the park announced that it would be phasing out its killer whale shows in San Diego, with a new 'orca experience' taking their place in 2017. Yet the whales, including Tilikum, continued to languish. The announcement followed a press conference on November 6, 2015 by Rep. Adam Schiff (D-Calif.) where Shiff said he would introduce the Orca Responsibility and Care Advancement Act (ORCA), aimed at ending the captivity of all orcas nationwide.
The tide was indeed turning in the orcas' favor. SeaWorld stock and attendance prices continued to slide, and key senior staff were being shuffled and replaced. SeaWorld even admitted to spying, directing certain employees to impersonate animal rights activists. Yet rather than allow their star performers to retire in peace and dignity, returning them to a more natural life, such as sea pens, the whales continued to be imprisoned in SeaWorld's tiny tanks. For Tilikum, it was a case of much too little, and far too late.
And now he's dead.
SeaWorld claims that during the 24 years he was at the park, "he received the best in marine mammal health care and life enrichment available for killer whales."*
*Source: SeaWorld Cares 
We beg to differ. In fact, apparently so did Brad Andrews, the ex vice-president of SeaWorld, in his comments about Tilikum's previous captivity at Sealand of the Pacific:
Prolonged restriction of the male in the medical pool may also lead to the development of serious medical problems…respiratory infection, muscle atrophy, and scoliosis. In addition, Tilikum could refuse food," Brad Andrews, ex vice-president of SeaWorld. Source: CTV News Vancouver, August 15, 2014 
Dolphin Project has worked for 47 years to educate people on the inherent cruelty of dolphin captivity. The solution, while seemingly simple, would put a permanent end to dolphin shows. If there were no revenues to be made in the keeping of whales and dolphins, the practice would stop. We ask that you make this commitment and take the pledge to not buy a ticket to a dolphin show. Then tell others why you did.
Increased awareness can help end the suffering of other captive dolphins. Let this be Tilikum's legacy.
Featured image: Creative Commons 3.0 License /Sawblade5
HOW YOU CAN HELP
TAKE THE PLEDGE TO NOT BUY A TICKET TO A DOLPHIN SHOW!
It's fast, it's simple and it's effective. Take the Pledge now and share with your friends!