09
May
BREAKING: 5/9/17 – SeaWorld Entertainment, Inc. has released its first quarter 2017 results – and in a continued downward trend, revenues and attendance are tanking.
According to a press release dated May 9, 2017, the company reported total revenues of $186.4 million versus $220.2 million in the first quarter 2016, resulting in a decrease of $33.9 million or 15%. The company generated a net loss of $61.1 million. Attendance for this quarter declined by approximately 491,000 guests, or 14.9%, compared to the first quarter of 2016.
SeaWorld's refusal to retire their dolphins and other whales isn't resulting in meaningful experiences for anyone.
When SeaWorld officially opened for business in 1964, the concept of keeping dolphins in captivity was well-received. The Flipper TV series portrayed dolphins as loyal and playful subjects. Aquariums including the Miami Seaquarium were already entertaining people with dolphins squirting water to put out fires, dolphins being ridden like horses and all the while, the mammals seemed to be enjoying what they were doing. All these illusions came crashing down when Kathy, one of the Flipper dolphins, swam into Ric O'Barry's arms, took her last breath and died. Suddenly the reality of captivity was exposed as an ugly business, one where the dolphins suffered and lost everything that made them who they were. With their freedom and families gone, they became caricatures of themselves, no longer representative of their wild counterparts.
And yet, marine parks and aquariums continued to portray them as willing entertainers.
Only by acknowledging past mistakes will SeaWorld be able to course-correct.
We expect to drive attendance through the continued introduction of fun and meaningful experiences for our guests, and will work to improve ticket yields through increased use of new strategic and tactical pricing initiatives." ~ Joel Manby, President and Chief Executive Officer of SeaWorld Entertainment, Inc.
SeaWorld still isn't getting it. Their definition of "meaningful experiences" doesn't matter for dolphins and other whales, and apparently, not to potential paying customers, either. The evidence is in the numbers: SeaWorld's attendance and revenues are suffering. Keeping dolphins and other whales in captivity is wrong. Fifty-three years ago, we didn't know better. In 2017, we do – and it's time SeaWorld embraced a new business model.
If SeaWorld were to invest in state-of-the-art retirement facilities for their current roster of performing/non-performing cetaceans, they could redefine and emerge as an environmental leader and a champion for these mammals. They could create educational programs, utilizing revolutionary technologies that would truly serve to inspire, and protect.
After decades of generating profits off the backs of these captive animals, it's time SeaWorld lives up to its name and retire the dolphins and other whales that are held imprisoned in their tanks." ~ Ric O'Barry, Founder/Director of Dolphin Project.
 How to Help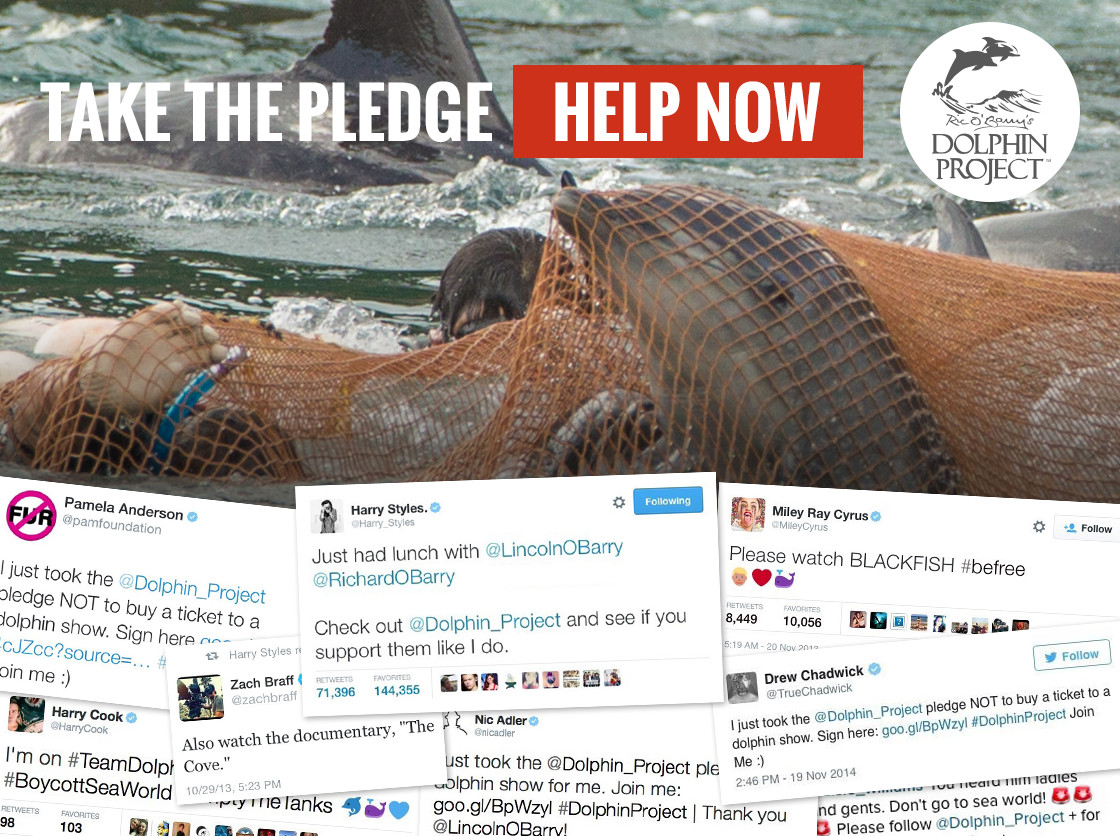 Take the Pledge to Not Buy a Ticket to a Dolphin Show 
Featured image:  Creative Commons 4.0 license, Howcheng