07
Nov
BREAKING: 11/7/17 – SeaWorld Entertainment, Inc. has released its third quarter and nine months 2017 results, hitting new lows in both revenues and attendance. The reason remains the same: orcas and other dolphins don't belong in captivity, and no amount of re-designed exhibits or fancy ads can hide this irrefutable fact.
According to a press release dated November 7, 2017, for the third quarter of 2017, SeaWorld's total revenues were $437.7 million as compared to $485.3 million for the same period in 2016, a loss of $47.6 million. For the first nine months of 2017, the company generated revenues of $997.8 million, a decrease of $78.9 million compared to the same period in 2016. The company reported a staggering net loss for the first nine months of 2017 of $181.9 million. Attendance in the third quarter of 2017 decreased by 732,000 guests, representing a 6.2% decline from the same period in 2016. SeaWorld has lowered it's own financial expectations in response to these results.
What these numbers really mean is the public is no longer buying the lie SeaWorld is attempting to market. These sentient creatures of the sea are simply not acceptable forms of entertainment. In fact, "sea world" isn't a concrete box at all, but rather, the open ocean, where dolphins are free to make their own decisions and choices." ~ Ric O'Barry, Founder/Director of Dolphin Project.
The reality of captivity exposes an ugly lie
Dolphins don't volunteer to become circus performers. As evidenced in this video shot by Dolphin Project Cove Monitors currently on the ground in Taiji, Japan, dolphins fight for their freedom. They are literally dragged by their tails and wrangled into capitulation in order to supply marine parks around the world with captive entertainment.
Aquariums will often call captive dolphins "ambassadors of the sea" yet this is a misnomer. How can a mammal, incapable of demonstrating normal (wild) behaviors be considered representative of its wild counterparts? For example, audiences are told dolphins will swim 50-100 miles in the open sea, yet the visual presented is a victim, unable to execute any free behaviors or directives. Thus, the captive scenario is a lie, and in no means is representative of the truth.
Brutal Bottlenose Dolphin Captive Selection, Taiji, Japan from Dolphin Project on Vimeo.
Truth be told: SeaWorld's marketing has sprung a leak
The company believes the decline in attendance at its SeaWorld San Diego park partly results from public perception issues which have resurfaced since the company reduced marketing spend on its national reputation campaign." ~ SeaWorld Entertainment, Inc. Reports Third Quarter and Nine Months 2017 Results Press Release, 11-7-17
No amount of spin can change the facts. "Entertainment", where thinking, feeling creatures are forced into submission isn't enjoyable to watch, leave alone spend hard-earned money on. It's embarrassing, is not educational and it teaches youngsters that dominance over powerless creatures is to be rewarded. Speaking of education, it's time SeaWorld and other aquariums learn this valuable lesson: when one's freedom is stripped away, what's left isn't worth celebrating.
How SeaWorld can be saved
Despite their losses, SeaWorld still generates massive revenues – monies which can be used to build seaside sanctuaries for their remaining marine mammals. Glass and concrete tanks need to be replaced with the natural world, where dolphins can live out the rest of their lives in peace and dignity.
How You Can Help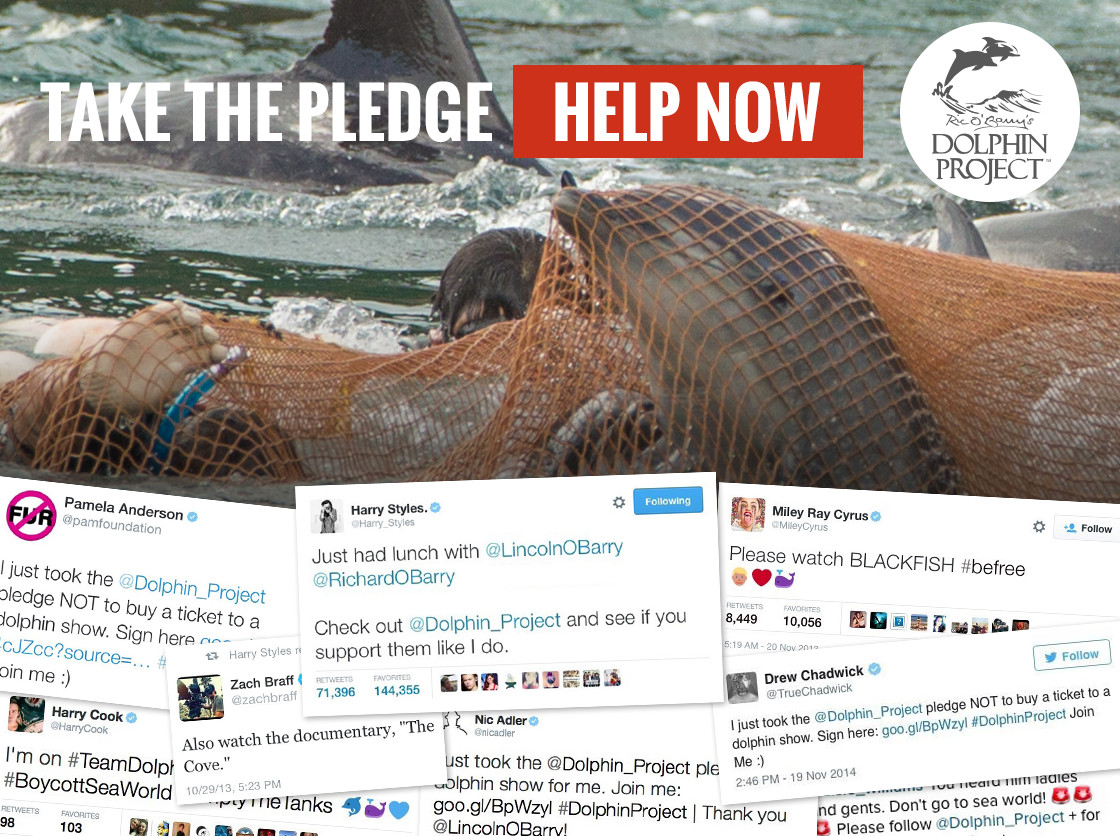 Take the Pledge to Not Buy a Ticket to a Dolphin Show