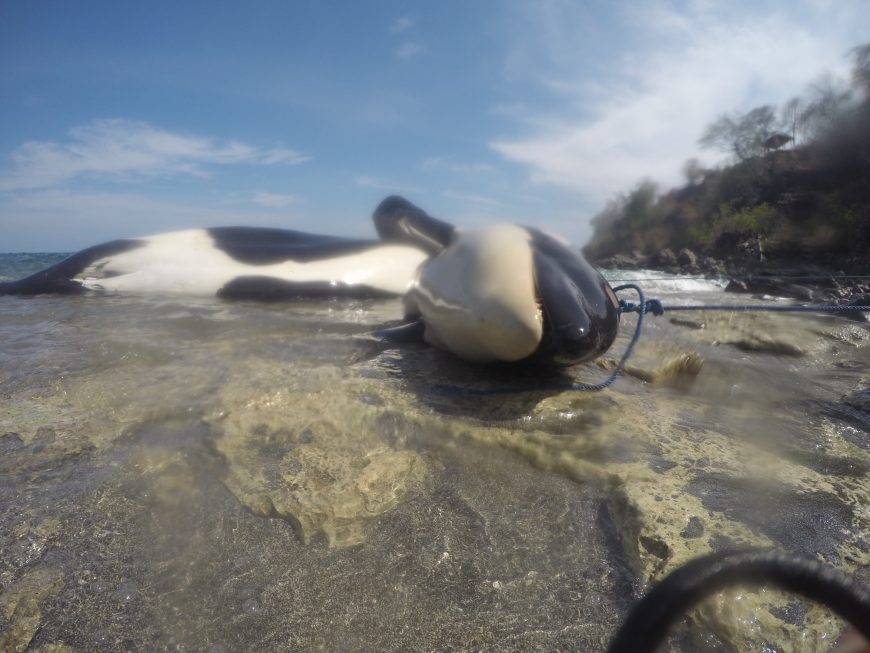 05
Nov
BREAKING: Abandoning long-held traditions for modern outboard engines, fishermen in the village of Lamalera on the island of Lembata in Indonesia illegally killed an entire orca family consisting of a mother, father and a baby.
While commercial whaling was banned in 1986, the remote village has long been known as a site for whale hunting. Using traditional methods including simple sailboats and canoes, fishermen followed ancient beliefs and honored age-old taboos in their hunts for large sea species including whales, manta rays and the occasional dolphin. Legally, fishermen are allowed to kill two whales per year, the hunts providing food and a living for the entire village.
"Within their cultural practices, an innate understanding of fishing for subsistence regulated the number of animals captured, with taboos including prohibitions on hunting pregnant, mating or young whales." said Femke Den Haas, Director of Dolphin Project's Indonesia campaign.
Today, the line between tradition and exploitation has been blurred, if not crossed outright. Orcas, the largest species of oceanic dolphins, are killed for their meat and bones, with the numbers slaughtered having little to no significance. Teeth and other bones may also be used for trading.
Continues Den Haas, "Under the International Whaling Commission (IWC), the village is exempt from a whaling ban, as their practices are supposedly conducted in a traditional manner for self-support. However, with a hunting season extending from May until the end of October, motorized boats are now commonly used to catch dolphins and other toothed whales, sea turtles, sharks and manta rays. These larger numbers suggest there may be a commercial aspect to their hunting."
Lamalera has long resisted outside interference, even from governmental officials. However, recent visits by Dolphin Project's team in Indonesia has generated a new dialogue, with conservation, education and ecotourism initiatives being proposed in order to assist the village with sustainable economic alternatives to dolphin and whale hunting. Together with the local Lembata government, we are constructing a marine education center, and are the only non-government organization working here on marine conservation issues.
Through education and awareness, Dolphin Project remains committed to supporting positive change in Lamalera.
HOW YOU CAN HELP
CONTACT
Susi Pudjiastuti, Minister of Marine Affairs & Fisheries
TWITTER: @susipudjiastuti
FACEBOOK: Susi Pudjiastuti
INSTAGRAM: @SusiPudjiastuti115
EMAIL: [email protected]