24
Mar
SeaWorld Entertainment, Inc. announced today that China-based Zhonghong Zhuoye Group Co., Ltd. will buy Blackstone's 21 percent stake in the corporation. The sale represents a 33 percent premium to the stock price at close-of-business on Thursday, and will effectively remove Blackstone from any equity dealings with SeaWorld.
Further, as part of the transaction, SeaWorld will advise Zhonghong Holding exclusively on the concept development and design of theme parks, water parks, and family entertainment centers to be developed and operated by Zhonghong Holding, including exclusive rights in China, Taiwan, Hong Kong and Macau.*
*Source: SeaWorld Investors News Release, 3/24/17
The latter is cause for concern. China and Hong Kong are some of the biggest consumers of live dolphin purchases, including from Taiji's notorious drive hunts. On February 9, Ulsan Aquarium, in South Korea imported two wild-caught dolphins from Taiji. Days later, one of the mammals died. Also last month, China's Chimelong Ocean Kingdom announced a breeding program for orcas. The park currently houses five males and four females aged between 5 and 13 years. The mammals are believed to have been wild caught from Russian waters.*
*Source: National Geographic News, 3/17/17
SeaWorld CEO Joel Manby, in an attempt to help the corporation rebound, keeps promoting meaningful park experiences and experiences that matter. (Total revenues decreased by $26.7 million and attendance decreased by 471,000 individuals in 2016 as compared to the year before). Yet again we ask, experiences that matter – to whom?
Our message to SeaWorld and Zhonghong Zhuoye Group

SeaWorld and Zhonghong Zhuoye Group have an unprecedented opportunity to be leaders in dolphin conservation; to utilize revolutionary technologies and with their combined resources, provide a permanent retirement sanctuary for SeaWorld's existing cetaceans. To remain a viable business means to nurture public support, as well as maintain the confidence of its stakeholders. What better way to do this than by affirming a commitment to the mammals themselves? The time is NOW to put the "sea" back into SeaWorld.
HOW YOU CAN HELP
Take the Pledge to NOT Buy a Ticket to a Dolphin Show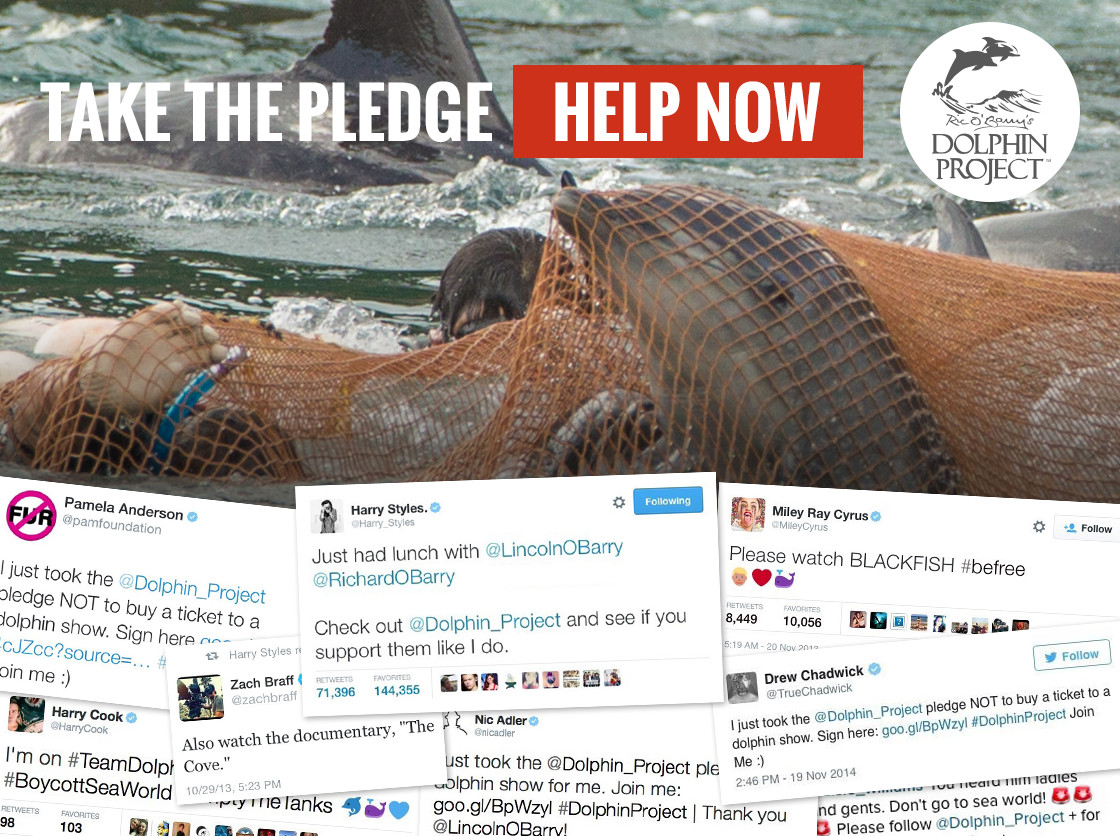 Featured image: Blue Horizons Dolphin Show, 2012, credit:  Creative Commons Attribution 2.0 Generic license, tm