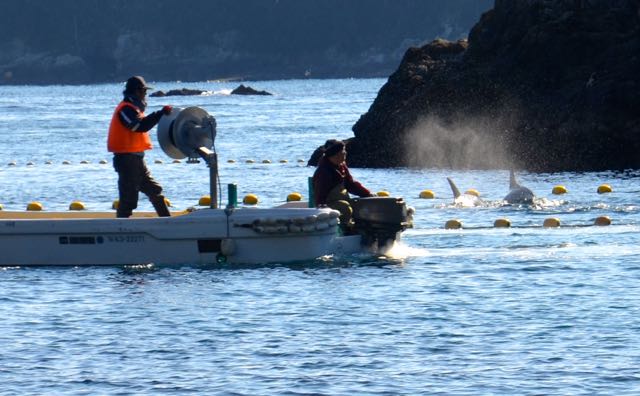 27
Feb
Things are winding down for Taiji's dolphin drive season but of course the hunting is not over. Some boats will now be adapted for the harpoon season and more animals such as the Dall's porpoise and pilot whales will die offshore.
More than 1,000 dolphins over several species were driven into the Cove this year. The majority of them (over 700) met a bloody end. Around eighty animals were taken for sale to the marine park industry for public display.
The dolphin season officially ended yesterday so our continuous presence at the Cove has come to an end for the 2014-15 season. Our focus on Taiji remains anything but over — Ric O'Barry's Dolphin Project is stepping up efforts at an international level.
"We will continue to do everything in our power to expose the atrocities that are happening in Taiji, Japan," said Ric O'Barry. "Most of the dolphins captured in Taiji are shipped to dolphinariums inside Japan. The second biggest market is China."
So on Earth Day — April 22, the Dolphin Project will be in Beijing for one week. There, Ric and his colleagues will hold a press conference, lecture at a few universities, host some public screenings of 'The Cove' movie, and conduct book signings.
"All of this is in order to make the Chinese public aware of the annual dolphin slaughter and the related dolphin captures," Ric explained. "Our message to the Chinese public will be, "please do not buy a ticket to a dolphin show."
Prior to the Beijing trip — but also in April, the Dolphin Project will be in Washington D.C. for two exciting events designed keep the spotlight firmly on Taiji. We will release more details as things get closer, so please stay tuned for those. You can help by signing our petition to President Obama. We hope to have one million signatures by April. Click Here to have your voice heard.
On March 14th and 15th come visit us at WhaleFest in Brighton, England. We'll be on the main stage talking about Taiji and keeping the issue very much alive. Ric will be in attendance and a huge Dolphin Project booth is planned, manned by members of our dolphin pod — including our Cove Monitors.
Whalefest will also offer an opportunity for NGOs and local event hosts to sign up at the booth for Japan Dolphins Day on September 1st, 2015. It's never too early to plan for this international event and with such great support onsite, it's the perfect time to drop by.
We may have left Taiji, but the Dolphin Project continues to test dolphin meat in Japan for mercury, radiation, and PCBs. This is important and will allow us to keep the Japanese public informed about the hazards involved in the consumption of dolphin meat. We will reveal the results of any tests as they come in.
There is also some terrific news from the filmmakers of 'The Cove' movie. Film producers are currently in talks with the Japanese distributor who owns the rights to the documentary. Once they get these rights returned, we can finally move forward with getting 'The Cove' shown on the Internet in Japan, for free. With approximately 127 million Japanese people yet to see the movie, this is crucial to advancing our campaign in Taiji.  We remain hopeful that things will change for the better once the movie is available to watch. It's time to give the Japanese people access to the information that we take for granted.
The Dolphin Project never forgets about Taiji dolphins in the off season, and we hope that you too, will join our efforts as we move forward. Our entire team consists of dedicated volunteers whom we'd be lost without. In recognition for the sacrifices they made, we would like to extend sincere and grateful thanks to all of our Cove Monitors for their outstanding representation in Taiji this season.
Tremendous thanks to:
Tim Burns
Terran Baylor
Terry Baylor
Victoria Hawley
Jeremy Raphael
Heather Hill
Vicki Kiely
Cynthia Fernandez
Richard O'Barry
Karla Sanjur
Kelsey Heustess
Michael McLatchey
Ivana Grubisic
Jaeny Colmenares
Our brave Youth Cove Monitors (from Gecko Community School):
Jack  (10)
Conor  (8)
Lou  (10)
Lee  (8)
Shakira (10)
Jessica    (8)
Ashley   (12)
Molly (11)
And their teacher: Tracy (Celi) Harper
Our other official Cove Monitors who did not make it to Taiji this season but offered unending support of the Dolphin Project and its pod:
Becca Jurczak
Tia Butt
Craig Davidson
Leilani Munter
Johanne Aa Rosvoll
Kerry O'Brien
Melissa Thompson
Vickie Collins
Daniel Moreno
Jess Chan
Veronica Artieda
Carrie Burns
Our illustrious Cove Monitors and volunteers are the heart and soul of the Dolphin Project and we thank you from the bottom of our hearts for a job well done. — Ric O'Barry.
Click Here To