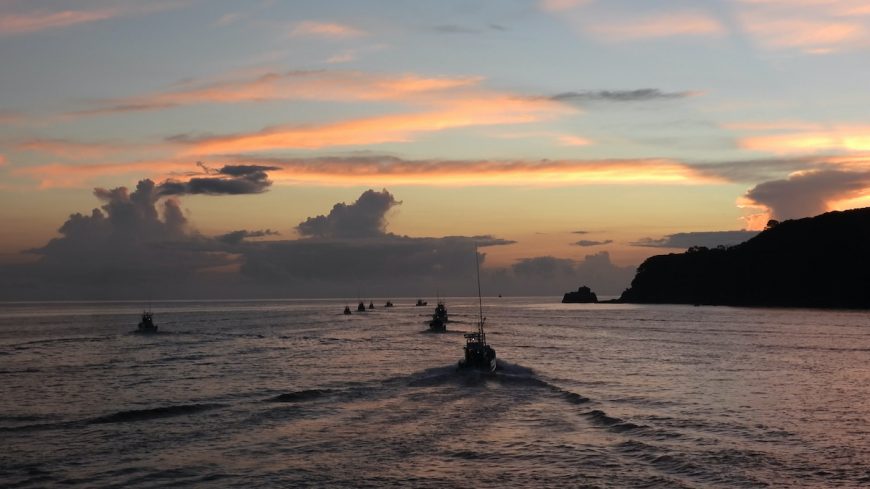 14
Sep
Amidst one of the world's worst pandemics with the emergence of COVID-19, dolphin hunts have resumed in Taiji, Japan. And with it, the return of Dolphin Project, albeit in a manner that's safe for both the local people of Taiji and for our global teams.
Dolphin Project / Life Investigation Agency Cove Monitor Collaboration Program
For the 2020/21 dolphin hunting season, Dolphin Project is collaborating with Life Investigation Agency (LIA), a Japanese nonprofit organization dedicated to investigating, exposing and campaigning against the abuse of animals, along with other Japanese-based activists. Program goals are to document the hunts in Taiji, along with expand educational programs throughout Japan. The program is headed up by LIA campaign director Ren Yabuki, and is open to all Japanese citizens curious about the Taiji dolphin drives and the captivity issue. This is the first time events at the Cove have been documented solely by an all-Japanese team made up of volunteers and nonprofit organizations.
Week #1
On September 1, on the first day of the dolphin drive hunts, over 30 concerned Japanese citizens spoke out in Taiji to express their displeasure with the taking of wild dolphins to be sold into captivity for financial gains. For the first time in 10 years, residents of Taiji were amongst those that participated.
Also on the first day, dolphin hunters quickly located two pods of dolphins. They were driven into a single pod and four dolphins – 3 bottlenose and 1 Risso's – were taken captive. For the rest of the week, two typhoons far to the south kept the boats in, and when they did head out, they returned early, likely due to poor weather conditions.
Week #2
During week #2, the town of Taiji remained quiet. Despite the boats going out, no dolphins were driven into the Cove, and thus, no captures or slaughters took place.
2020/21 Dolphin Drive Hunt Quota, Taiji, Japan
Our team will continue to document and live stream for the duration of the dolphin hunting season. Please follow us on our social media channels for live updates.
Featured image: Hunting boats head out in search of dolphins on the first day of Taiji, Japan's dolphin drive hunt season. Credit: Life Investigation Agency and DolphinProject.com
RELATED:
Learn more about Dolphin Project's campaign in Taiji, Japan
Make a donation directly to Dolphin Project's Taiji campaign
Every year from September through March, a notoriously cruel hunt of some of the most sentient creatures on the planet takes place in Taiji, Japan, made famous by the 2009 Academy award-winning movie 'The Cove'. During this period, dolphin hunters, "drive" the mammals to their capture or deaths via means of physical violence and acoustic torture. Dolphin Project is the only organization to have been on the ground consistently since 2003.