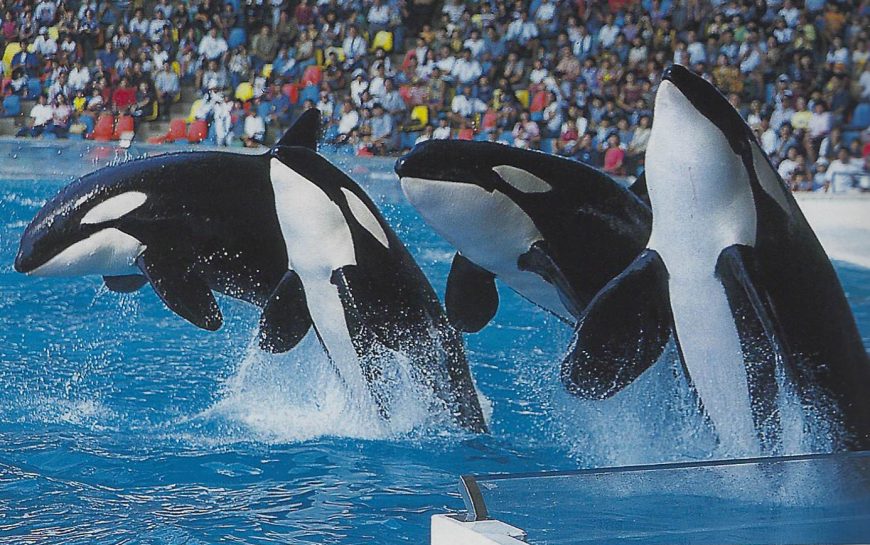 08
May
Once again, Adventure World was back in Iceland to purchase replacement whales. At the time, there was heightened international scrutiny towards Icelandic orca collection operations. A year prior in early 1988, four unsold orcas were languishing in the dimly-lit holding tank at Hafnarfjörður Zoo. The pumps and filtration systems broke down, causing the tank's water to become "so murky with waste that the bottom of the pool was invisible, and a tide of scum coated the walls of the pool at water level." In the wake of questioning by journalists, the whales were sold and spirited away onto a charter plane for Sea World Kamogawa later in March.
Yet in November 1989, another four orcas were captured in southeast Iceland by the animal-dealing company Fauna, making it the last capture operation in the nation. While a male and female pair were shipped to Marineland Antibes in February 1990, the last two female juveniles would arrive at Adventure World later in April. They would later go by the names Ai and Ran, and were given some waterworks training.
For most of the 1990s, there was finally stability in the park's pod. All four whales were relatively young, their hormones had not yet kicked in yet, and trainers could usually get in the water with them safely. In 1995, the orcas would be moved one more time into a larger stadium called Marine Stadium (known today as Big Ocean). It was hoped that with the more expansive tanks, the four orcas would feel comfortable to breed, once they had reached sexual maturity. However, there was a set-back when Ai perished from candidiasis (yeast infection) in August 1995.
---
Orca populations in Japan are only starting to be more rigorously studied. Local pods were historically harvested for meat and oil, making them an endangered species. Even when the whaling moratorium started in 1986, the was little to no data on their physiology, behavior or culture. Katoe Sasamori of Orca.Org (Team Sakamata) has spearheaded the nation's more earnest orca research program. Since 2007, her team have been studying the pods that frequent the waters of Hokkaido (the northern-most island of Japan) and Southern Kuril Islands, where they are protected.
Orcas have been sighted in small numbers occasionally outside of Hokkaido waters. In May 2015, The Japan Times reported that three to four orcas were spotted in Tokyo Bay, "prompting the Japan Coast Guard to warn ships passing through the area to avoid the cetaceans." Fifteen years earlier, an adult bull strayed into the Horikawa River in Nagoya on February 22, 2000, and was followed closely by an excited public. He wandered 4 km/2.5 miles upstream before becoming trapped. The orca was eventually coaxed back out into sea by rescuers two days later, leaving in "good condition after the ordeal."
---
A pod of ten orcas were unlucky enough to pass by Taiji on February 7, 1997, who were corralled by a fleet of fishing boats into Hatakejiri Bay. After three days of negotiations, three marine parks paid an alleged total of ¥100 million (~$1 million USD), and were granted permission to take the whales by Japan's Fisheries Agency, under the flimsy guise of "academic research."
Five relatively young orcas were picked out. One went to Taiji Whaling Museum; another went Izo Mito Sea Paradise; the last three, a presumed mother and son, and an adolescent male were sent to Adventure World. The rest of the pod refused to leave, but were eventually were driven out of the bay by the Isana Union fishermen. Late filmmaker and conservationist Hardy Jones commented that with no reproductive females left in the group, the pod was now functionally extinct.
Adventure World refused to answer any questions about the orcas'  status to local journalists and animal welfare groups, even as international outrage bombarded the Fisheries Agency and the marine park. The information that did manage to trickle out, from anonymous trainers and local activists on the ground, was not promising: the whales were not adjusting well. While the two males were able to eat some fish, the female was refusing to eat, and had to be force-fed a liquid-food mixture. Sometime in April, the adult female, A-chan, reported to have miscarried. By the middle of June, the juvenile male (B-kun) and A-chan were dead.
B-kun died on June 14 from internal abdominal hemorrhage, due a "systemic cytomegalovirus [herpes virus] infection." Veterinary staff deduced he was more susceptible due to having a weak immune system. A-Chan had become so frail, possibly due to her miscarriage, that she was unable to swim on her own. The tank water had to be lowered and her body was supported by a sling. She died from bacterial pneumonia on June 17, leaving the adolescent (now named Kyu) the sole survivor.
As part of the agreement with the Fisheries Agency, Kyu would be strictly used for captive breeding research. But by April 1999, he was already participating in shows. Yoko Oide and Kazuhisa Taniguchi, then-orca trainers and authors of the book "Someaday, Orca," admitted the park did not intend for him to perform. However, he often followed Ran and Ruka into the stadium tank when they left to do shows. Marine Stadium staff would attempt to herd Kyu into the back pools, but this forcible separation appeared to have stressed out Goro. Staff concluded keeping Kyu isolated was not worth the effort, and allowed him to integrate into shows.
On the other hand, the park was in quite a hurry to get Kyu to start breeding. He was paired up with Ruka when she was in estrus in February 1998, and then again that May. While they were amicable to one another, no breeding behavior was observed, so staff paired him with Ran instead in July. Ran would be the one he tightly bonded with.
Kyu was known for having a "straightforward and reckless" personality. On one occasion, he broke a holding pool's circular observation window (1m wide, with glass 6cm thick). A stream of water poured out and onto the Safari World division below.
There would be some sweet moments in the Marine Stadium. All four whales were delighted to be scrubbed down with a deck brush, becoming the highlight of their day when it was brought out. While having his mouth brushed, Goro would play a rhythm game with it with his tongue. Ruka and Kyu in particular relished it: Ruka would squeal loud enough that her voice "echoed through the stadium like a siren." Kyu would open his mouth and then would slowly roll onto his back as every tooth was scrubbed.
In the late 1990s, Adventure World launched two programs where their orcas were more involved with public: the first was "Orca Classroom," a behind-the-scenes experience where visitors could see the animals when they weren't doing shows. The second "Orca: First Contact," a semi-educational program where children and teens could learn more about orcas, and get the chance to touch them. In the summer of 1999, the seasonal night time show "Night Marine Live" was launched.
While Oide and Taniguchi never mentioned who was the matriarch for Adventure World's pod, Ruka appeared to be the glue that kept the whales together. With her death in March 2000, when she abruptly sank right after a show and never returned to the surface, Ran took over the mantle. Pod dynamics then became more complicated: the new social system was to have Kyu and Goro paired together during the day, and rotate Kyu to be with Ran in the evenings. Otherwise, Ran would become aggressive towards Goro, who would then refuse to leave the back tanks if she was out in the stadium.
Even with this system in place, humans would inevitably get caught in the crossfire. On August 1, 2001, Oide was in the middle of the show's first act when Ran emitted an audible cry, and did not respond her trainer's commands. She was temporarily brought under control, and went on to perform the "twist dance" (when a trainer holds onto an orca as they slowly twirl).
As Oide and Goro attempted execute a lift walk towards the main stage, Ran broke from her trainer and made a beeline towards them. Oide almost made it to the stage when Goro turned to avoid the brunt of Ran's bite; she fell off and his pectoral fins smacked into Oide's right thigh, fracturing it. Dazed and in shock, she desperately dove into one of the pool's connection channels, and only emerged to climb onto the stage platform while the two whales were distracted.
---
Ran became pregnant in May 2003, after almost five years of waiting for Kyu to reach sexual maturity (but it was certainly not the first time the two had romantic escapades). Staff went into overdrive getting ready for the birth. They consulted with other aquaria and marine parks. Plans were drawn up to keep the calf safe, namely keeping Kyu and Goro out from the stadium pool. Fencing would be crafted, in order to prevent the calf from getting trapped between the pool channels. Fireworks, which were usually fired off during Night Marine Live performances, were cancelled. Trainers reduced the number of shows Ran was involved in, and restricting her to basic behaviors. They took her temperature daily, and her hormone levels were measured every one to two weeks.
The veterinary personnel were certain she would deliver in mid-September. But the birth came a month early during the afternoon of August 26, 2004. In the midst of the day's first live show, one orca trainer instructed Ran, housed in a back tank, to roll over so another trainer would take her temperature. They exclaimed in surprise to see a tiny pair of flukes popping out of her. The remainder of the show was canceled. Kyu and Goro were sent to a holding tank as Ran was released into the stadium pool. After a 1½–hour labor, the female calf was born and took her first breath.
And yet for all the preparation, fretting and monitoring, none of the staff could have foreseen how their plans went terribly awry.
The fencing, which was just a mere net, was still in the process of being built and not yet installed. Ran wanted absolutely nothing to do with her offspring, and made every effort to avoid her, even emitting a "threatening noise" when the calf got too close. She then darted off into the channel that connected to Kyu and Goro's holding pool. The calf, who was not quite in control of her movements and following her mother's vocals, swam to the area and somehow became wedged in a gap in the holding pool gate.
Kyu, who was in a "frenzied" state following the birth, bit the calf by the tail and yanked her through the gate into his pool. Trainers and the veterinary crew "tried desperately" to get Kyu to surrender the calf, but he ignored them, tossing her body repeatedly. Staff opened the gate to let Ran inside, and Kyu went out to the stadium pool, with the calf still his mouth. Once in the stadium, he calmed down and nudged the calf along the water's surface. Ran trailed behind him, but did not interfere.
An executive decision to was made retrieve the calf to feed her, since there was no chance she would nurse naturally. Kyu noticed staff members trying to reach for him, and pushed the calf to the middle of the pool. The calf eventually wandered away and one of the trainers managed to get her. She was taken to a smaller medical pool, placed into a stretcher and tube-fed artificial formula. On the morning of August 27th, staff took her out to get her to swim, but she had difficulty moving and maintaining equilibrium. She died later in the afternoon from a skull fracture caused by Kyu's bite.
The next day, Ran's behavior changed: she moved sluggishly and had vomiting spells. Her health took a nosedive and she passed away in early morning hours of August 29th. A small technical report, detailing Ran's pregnancy and birth, disclosed she had perished from septicemia caused by Corynebacterium ulcerans bacteria. Kyu would follow her twenty days later on September 18th, 2004, dying from bacterial pneumonia.
With their absence, more dolphins and false killer whales were moved into the Marine Stadium to take advantage of the new space. Goro still performed and found some companionship with the bottlenose, but losing his pod mates in such a short period of time must have left a negative impact.
On January 18, 2005, Goro was not as sharp as he usually was during his performances, but he was still attentive to his trainers. On the 19th, he became feverish. His charges attempted to feed him ten mackerels stuffed with medication; he ate a few but by afternoon, his appetite vanished. By the 20th, staff tried to coax Goro to leave the stadium pool better monitor him but he was unresponsive. As a last resort, nets were deployed to gently push him into a back pool.
On January 21st, he perked up briefly, taking ice cubes as a treat and letting trainers rub his giant pectoral fins. But just after noon, his status became unstable: his breathing became labored, he swam weakly and bumped into the tank walls. There was no time to lower the water, so trainers dove in to assist in giving fluid and antibiotic treatments. Goro passed away minutes after treatment was finished at 1:20pm from acute pneumonia.
---
So what does a theme park do when they have lost their prized megafauna? It was near impossible for Adventure World get a replacement killer whale from the wild, let alone convince another facility in the country to loan them one. They had no choice but to pivot to pandas, which was an animal they were having strong success in the captive breeding department.
Their dolphins and false killer whales are now the main performers in Big Ocean stadium. As part of Adventure World's mantra to create "interactions between people, animals, and nature," they are used in daily and seasonal summer night shows, photo-ops, and "trainer for a day" programs.
On May 20th, 2015, the Japanese Association of Zoos and Aquariums (JAZA) enacted a ban on members prohibiting the purchase of drive-caught dolphins, or else risk expulsion from the World Association of Zoos and Aquariums (WAZA). Caught between relying on the drives to replenish their cetacean inventory, or risk losing out on breeding loan deals and trading species with other zoological facilities, Adventure World retained their JAZA membership by ultimately agreeing to no longer obtain drive-sourced animals.
The park now had to make an actual effort to create a sustainable breeding population of false killer whales, bottlenose, Pacific white-sided and Risso's dolphins. While they have had some luck breeding their bottlenose, they have had a rougher time with the other species. A male Pacific white-sided dolphin was born July 2019 seemed to be faring well, until he passed away unexpectedly in January 2020. Momiji, a false killer whale, gave birth to her fourth calf in February 2019, however, it is not known if it is still alive. Her previous offspring did not fare any better; her last calf, born in 2017, lived for a week.
In May 2020, Adventure World adopted almost the entire animal inventory of Misaki Amusement Park, which had closed on March 31st due to financing issues. This included three bottlenose dolphins and two Pacific white-sided dolphins. Whether they will be integrated and become part of the breeding program has not been announced.
As for the long-gone orcas, Ran, Goro, Ruka and Kyu's genetic material (semen and egg samples) were gathered and are being preserved through cryogenic freezing at an unnamed university. It is plausible they will be used at some point either by another facility with orcas, but it depends on how well-preserved the samples are.
An epitaph for the orcas was constructed inside one of Adventure World's buildings, consisting of a photo-gallery of the whales' publicity shots. Shortly after Goro's passing in 2005, staff displayed a makeshift memorial with a submission box, letting visitors submit their thoughts and memories. Large wheeled bulletin boards displayed a sample of the hundreds of notes they received (one bulletin board is still on display, flanking the photo-gallery). Most of the notes give thanks to the whales' hard work and performance, or reflect sadness about their passing. But others contain wishes – for the orcas' return.
"I wish orcas would come back."

"I hope to see you again."

"I'd like to see more orca shows!"

"I went there when I was little, and I went there on dates. I've been going ever since I was a baby… I wish they would bring back the Orca show, it's really powerful."
---
Related link: Adventure World (Part I): Memories of Orcas
Featured Image: Ran, Ruka, Kyu and Goro perform in front of a packed audience at Adventure World, Shirahama, Japan sometime between 1999–2000. © Adventure World, from "Someday, Orca."
(Originally published May 3, 2021).

The author would like to thank Tracie Sugo for translation assistance.
Sources Cited:
Bulk of information on Adventure World's orcas is sourced from  "Someday, Orca: A Memoir of Love with Orca and Trainer" by Kazuhisa Taniguchi and Yoko Oide (2007).
Ceta-Base, Adventure World inventory.
The Rose-Tinted Menagerie. William M. Johnson, Iridescent Publishing. 1990.
Nanki Shirahama Adventure World Commercial (1993). Adventure World/Youtube, 1993.
"Taiji Killer Whale Catching Incident." IKAN-NET. February 8, 1997.
"Taiji Orca News (to the end of February): February 20th." Free Orca Project. February 26, 1997.
"Two of Five Captured Killer Whales Die in Taiji." IKAN-NET. June 18, 1997.
"Appearing in a show, not for academic purposes." Free Orca Project website. Summer 1999.
A Case of Herpes virus Infection in a Killer Whale. Koji Imazu, Masao Yonezawa, Teruaki Hayashi. Journal of the 24th Annual Meeting of the Association of Marine Animal and Veterinary Technicians in Zoos and Aquariums
. Japanese Association of Zoos and Aquariums. 1999.
Interview with Hardy Jones. A Fall from Freedom. Stanley Minasian, EarthViews Productions, 1998 (2011 edition).
"Whaling and Killer Whales." Hokkaido and Killer Whales. 200?
"Stranded Whale Swims Free." BBC News. February 23, 2000.
"Stranded Killer Whale Rescued in Japan." Associated Press via The Vancouver Sun. February 24, 2000.
"And Then There Were None…" IKAN-NET. February 5, 2005.
Pregnancy and Birth of Killer Whale, Orcinus orca. Miki Matsui, Tadashi Ishikawa, Masao Yonezawa, Koji Imazu, Teruaki Hayashi. The 13th Meeting of the Society for Artificial Breeding of Rare Animals. 30th Meeting of the Society of Marine Animal Technicians in Zoos and Aquariums. 2006.
"Japanese Aquariums vote to stop buying Taiji dolphins." Justin McCurry, The Guardian. May 20, 2015.
"JAZA Stops the Live Capture from Dolphin Drives." Elsa Nature Conservancy. May 27, 2015.
"Killer whales spotted in Tokyo Bay." The Japan Times. May 27, 2015.
"Milestones to Date: History." Adventure World's 40th Anniversary, 2018.
"Mysterious Orcas of Japan." Katoe Sasamori, ORCAZINE. September 2018.
False Killer Whale Birth announcement. Adventure World, February 13, 2019.
Pacific White-sided dolphin death announcement. Adventure World, PR Times. January 24, 2020.
Bottlenose dolphin birth announcement. Adventure World, April 16, 2020.
Misaki Park to close in March, 450 animals to go to other facilities. Nikkei. February 13, 2020.