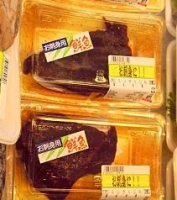 10
May
By Ric O'Barry
Campaign Director
Dolphin Project
Brian Barnes and our Save Japan Dolphins Team are in the town of Otsuchi, in Iwate Prefecture, on Japan's northern coast.  Brian was in Otsuchi in March when the 9.0 earthquake struck and generated a tsunami that destroyed Otsuchi and other port towns along this coast.
Otsuchi was one of the main ports in Japan that hosted the hunting fleet for Dall's porpoise in Japan's cold coastal waters up north.  Each year, thousands of Dall's porpoise were hunted from small boats using hand harpoons, then brought back to ports like Otsuchi for processing and sale as meat.  But no more.
The town is still in desperate straits, as Brian reports:
The town of Otsuchi is completely gone, and no one knows how long it will take to recover.
Every single person lost someone close.  There are still nearly 1000 people missing in just Otsuchi.
The Otsuchi port was wrecked.  Boats cannot use it.  It will take months, possibly years to fix.  I counted four dolphin-hunting boats that survived.  Otsuchi had fish farming operations as well as fishing fleets, but all are of course gone.
Many residents are scared to stay and want to leave the area.  They don't want to rebuild in the low coastal area where future tsunamis may strike again.  But Otsuchi is boxed in by steep hills.  There is nowhere else to build here.
We met with the town officials today and had a good meeting.  They all knew me and, touchingly, had been worried about me.  As soon as they saw me, they said: "OOOHHHH" and their next phrase was "You alive!  I thought you were dead!", and everyone laughed.  Many locals also had unbelievable survival stories.
There are 35 homeless shelters here, with hundreds of people in each one.  Suicides are happening.  The town has a functioning government, but is primarily under civil defense control with heavy national defense force presence.
The town officials I spoke with said "Yes, Otsuchi needs help," including foreign assistance.  Japan may be a wealthy nation, but money is not really getting here other than to pay for the national defense force, coast guard, and emergency management, e.g. "FEMA" type operations.
I had been told that one of the town officials, whom I met before the tragedy, learned to speak English by playing a guitar in his youth and singing Beatles songs.  So, we decided to bring him a guitar, knowing he had lost his home and everything in it.  I gave him the guitar at our meeting. He seemed overwhelmed by the thought if it and was extremely appreciative.
We'll be in the Otsuchi area for at least another day.
One of the reasons our Save Japan Dolphins Team went to Japan was to see if we could help the people in their time of need.  We oppose hunting dolphins and porpoises, but we have a deep affection for the people of Japan and understand that they are hurting.  By opening up this dialog, Brian and our Save Japan Dolphins Team have helped us reach out to the town of Otsuchi.  We hope to do some things to help them in these dire straits.  That will open a path to talking later about dolphin hunts.