01
Sep
When 7-year-old Imogen packed a letter to bring with her to Taiji, Japan, she wasn't even certain it would be read by the destined recipient. As Dolphin Project's youngest Cove Monitor, this would mark her third trip to the area made famous by the Academy award-winning movie "The Cove," helping the rest of the team share information on the dolphin hunts.
And on Japan Dolphins Day – the first day of Taiji's hunting season – we couldn't have been happier to report it was a "blue cove day," where no dolphins were captured or killed.
But the good news didn't stop there.
The next stop was to visit the Mayor's office, as Imogen's primary mission was to deliver a letter to the one person she felt could put a permanent end to the dolphin slaughter. The team, escorted by the police, were greeted by two of the staff, and asked what their purpose was. They were told that Imogen wanted to give the mayor her letter and the letters from her classmates. They would be granted a five-minute meeting.
Within seconds, Imogen, along with her mother, Vicki Kiely and Daniela Moreno, both Veteran Dolphin Project Cove Monitors, were met by Mayor Kazutaka Sangen, of Taiji, Wakayama Prefecture. What was supposed to be a five-minute meeting turned into a 20-minute unprecedented dialogue.
He was very welcoming and smiled at Imogen, holding our hands and greeting us. The mayor then read the letter with the help of a translator. He was listening when he heard Imogen's words, stating it was 'mean and wrong' to kill dolphins." ~ Vicki Kiely
Imogen and her class of fellow students had ideas on how Taiji could make money from dolphins without hurting them.
I told him he should tell the hunters to use the boats to watch dolphins and make people pay money to go on the boats." ~ Imogen
The Mayor listened intently, then explained that this was a fishing town.
It is not my responsibility or place to make a call to stop the hunting. It is the Japanese Government who give the permits and allows this practice. They [Taiji fishermen] are not breaking the law. This is their job and a means to make a living. All I can do is make sure that they don't break the laws by killing or capturing dolphins not on the list, or ones that are endangered. Only then can I make sure they get punished." ~ Mayor Kazutaka Sangen, of Taiji, Wakayama Prefecture
To our surprise, he then got up and gave a presentation using a large map of Taiji.
Mayor Kazutaka Sangen's plan to conserve dolphin populations
He explained they wanted to breed rare and endangered dolphins, native to this area. They would then be released back into the wild to help replenish their numbers. A net would be lifted and dropped as needed so the dolphins and whales could come and go as they please.
The Mayor took his time explaining his plan, hoping we understood that he wants more eco-tourism in Taiji.
He mentioned to us how many people have this misconception of him and his town, and explained how the Taiji hunts are supported by the government. This is what makes them legal and there's nothing he can do about that." ~ Daniela Moreno
As the meeting came to a close, the Mayor asked Imogen how old she was, and told her she would be a famous movie star when she grew up. He was amazed this was her third time visiting Taiji.
We explained we came with no malice and only with a good heart, that we wanted to improve relationships with the people of Taiji, so we could understand one another better." ~ Vicki Kiely
The team was apprehensive at first, concerned about the resentment the people of Taiji had towards them, but were delighted at how welcoming the Mayor was.
The mayor was so nice, and he gave me a cool bag with a dolphin and a whale on it as a present. I am glad I met him." ~ Imogen

I could not be more proud of my daughter, and her will and determination to change this world for the better." ~ Vicki Kiely
On behalf of Team Dolphin Project, we couldn't agree more.
Imogen's letter to Mayor Kazutaka Sangen, of Taiji, Wakayama Prefecture
Dolphin Project Cove Monitors are on the ground in Taiji throughout the entire killing season, live streaming, documenting and disseminating information to the rest of the world. We are the only organization to have been on the ground since 2003, and have revolutionized live streaming and broadcast from The Cove.
HOW YOU CAN HELP
DONATE
Dolphin Project will be on the ground in Taiji during the entire killing season, live streaming, blogging and disseminating information for the world to see. Your support has never been more crucial and is greatly appreciated.
WANT TO JOIN OUR TEAM AS A DOLPHIN PROJECT COVE MONITOR?
Interested in joining us in Taiji? Learn about becoming a Dolphin Project Cove Monitor and submit your application, free of charge.

TAKE THE PLEDGE TO NOT BUY A TICKET TO A DOLPHIN SHOW!
It's fast, it's simple and it's effective. Take the Pledge now and share with your friends!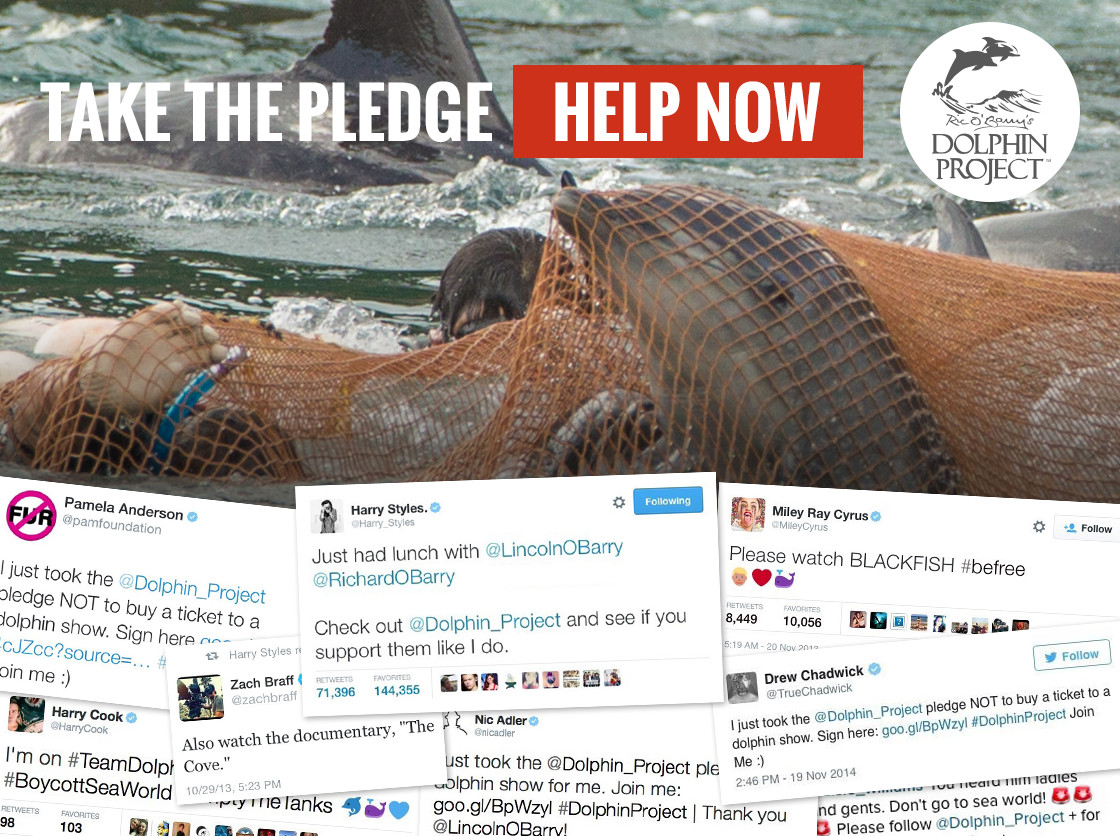 Ric O'Barry's Dolphin Project is a non-profit charitable organization, dedicated to the welfare and protection of dolphins worldwide. Founded by Richard (Ric) O'Barry on Earth Day, April 22, 1970, the mission of the Dolphin Project is to end dolphin exploitation and slaughter, as dolphins are routinely captured, harassed, slaughtered and sold into captivity around the world – all in the name of profit.
Every year from approximately September 1 to March 1, a notoriously cruel hunt of some of the most sentient and sensitive creatures on the planet takes place in Taiji, Japan, made famous by the 2009 Academy award-winning movie "The Cove." During this period, fisherman, or more appropriately, dolphin hunters, "drive" the mammals to their capture or deaths via means of physical violence and acoustic torture.
Dolphin Project is the only organization to have been on the ground in Taiji since 2003. We have revolutionized live streaming and broadcast throughout the entire season.
Dolphin Project works not only to halt these slaughters but also to rehabilitate captive dolphins, investigate and advocate for economic alternatives to dolphin slaughter exploitation and to put a permanent end to dolphin captivity.  This work has been chronicled in films such as, 'A Fall From Freedom,' the Oscar-winning documentary 'The Cove,' and in the Animal Planet mini-series, 'Blood Dolphin$.'