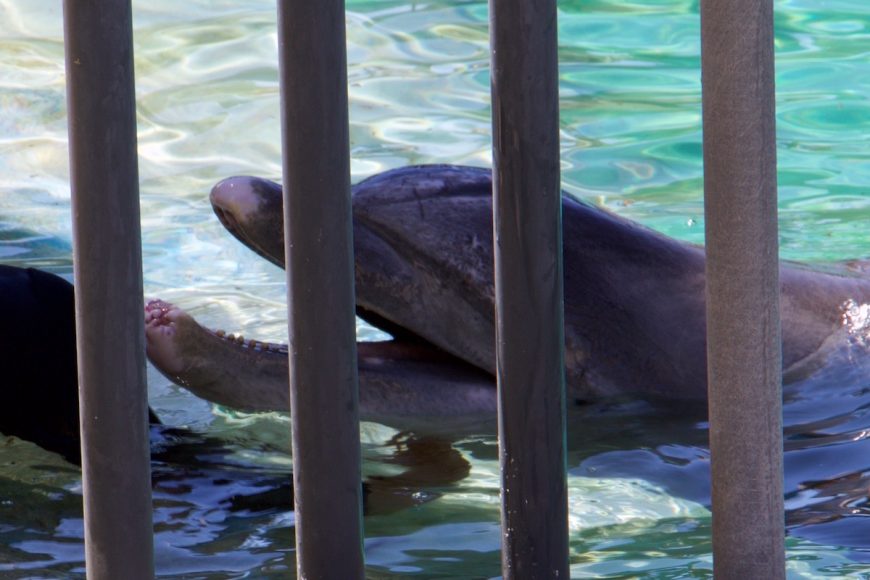 14
Apr
Dolphins living in captive conditions face circumstances vastly different than those of the ocean. The surroundings are bare and sterile, with little mental stimulation or diversion. Many captive dolphins are regularly treated with ulcer medication or antidepressant medication to alleviate the frustration of captivity. These are just some of the reasons why you should not buy a ticket to a captive dolphins show.
"Dolphin shows are as educational about dolphins as Mickey Mouse is about real mice." ~ Ric O'Barry, Founder/Director of Dolphin Project
Read on for five reasons not to go to Sea Life Park Hawaii in Oahu:
1. As of June 2022, 144 cetaceans have died under Sea Life Park's care. Ninety-one of the 144 cetaceans were taken from Hawaiian waters.
Sea Life Park deaths by species:
59 bottlenose dolphins
36 spinner dolphins
11 pantropical spotted dolphins
11 false killer whales
9 short-finned pilot whales
8 rough-toothed dolphins
5 hybrid species
3 melon-headed whales
3 pygmy killer whales
Source: Marine Mammal Inventory Report: Sea Life Park Hawaii Dolphin Deaths January 2022
2. The park has a long history of alleged abusive behavior by staff.
In the 1990s, Sea Life Park employees accused then-animal curator, Marlee Breese, of "alleged animal abuse, animal negligence, and food deprivation." In November 1990, the employees sent a letter to park management, alleging Breese had "beaten Amiko (one of the park's bottlenose dolphins) with a pole because he would not move", deprived animals of food, and punched seals and sea lions. When no action was taken, the employees reported Breese to the National Marine Fisheries Service (NMFS), further detailing other alleged retaliations. Sea Life Park employees told NMFS that Mikioi, an Atlantic bottlenose dolphin, was only fed "two pounds of his daily 16-pound ration because he did not want to move into a separate tank" and described an incident where a two-year-old sea lion named Makani refused to get out of a dolphin tank so Breese "drained the tank, wrapped her in a net, and roughly dragged her down a flight of metal stairs. She then kicked Makani until she was able to free herself from the net and run into her tank." Breese was ultimately fired. In an article by Star-Bulletin she stated "…her dismissal stemmed from differences with her bosses over animal care." She had been the curator of Sea Life park for three decades.
3. Staff negligence has led to the death and injury of multiple animals.
Throughout Sea Life Park's history, animals have been seriously injured and have died due to staff error and negligence:
In 1964, a false killer whale died within hours of capture after being given too many tranquilizers.
In May 1991 a dolphin died after being left in a partially-drained tank.
In October 1992, a sea lion pup died of heat exhaustion after an employee accidentally left her in a drained pool.
In August 1994 the park was fined for the third time in five years for stranding two false killer whales after an employee left a drain open. A security guard found them in about two feet of water a half-hour later.
In 2003 a pregnant bottlenose dolphin named Laukani required a fetotomy after being in labor for three days, attempting to deliver an already deceased near-term calf. When the local vet arrived, she found Laukani and her partially protruding calf dead. Later a USDA inspector noted, "at no time during her travail did she receive any on-site veterinary examination or treatment."
4. They've purchased cetaceans caught in drive fisheries.
Sea Life Park has purchased cetaceans who were originally caught in drive fisheries as recently as 2015. Four false killer whales held at SeaWorld Kamogawa in Japan were destined for Sea Life Park in 1990, but only two ultimately ended up making it to the park alive. Both had been captured in Taiji's infamous drive hunts.
In 2015, Sea Life Park purchased another false killer whale named Kina at auction. She was originally captured in 1987 in a brutal drive fishery on Iki Island, Japan. Sea Life Park then neglected to get the federally required permits for the transfer and completely disregarded Hawaii residents' legal rights to testify at a public hearing to determine the legality of such permits. Kina was held behind-the-scenes of the park in a small dirty tank until her death in 2019.
5. The park has received numerous concerning inspection reports.
The United States Department of Agriculture's (USDA) Animal and Plant Health Inspection Service (APHIS) conducts inspections on all facilities that exhibit captive marine mammals. In recent years, Sea Life Park has been repeatedly cited for failing to provide shade for their captive animals despite the inspector informing the park about the adverse affect this can have on the animals' health, especially eye health. The inspector also reported that multiple enclosures had "corrosion, rust stains, paint that was coming off, or surfaces that had deteriorated."
Observations included:
Extensive areas of rust on the structural support in the Open Theater that threaten their structural strength.
Peeling paint in the endangered Hawaiian monk seal enclosure.
Discolored and possibly deteriorating surfaces in the Dolphin Cove enclosure.
Crumbling and deteriorating concrete surfaces in the Sea Lion Feeding Pool in addition to missing paint.
Exposed and rusting rebar in the Aloha Discovery dolphin pool.
The inspector warned that "exposure to contaminants could affect water quality, present an ingestion risk, which could be harmful to the animals. Extensive corrosion could cause catastrophic damage to enclosures holding marine mammals." This report was made in 2015 and many of these problems are still visible upon visit to the park.
Featured image: Bottlenose dolphin at Sea Life Park Hawaii. Credit: Kirsten Ramirez
Learn more about the Captivity Industry.