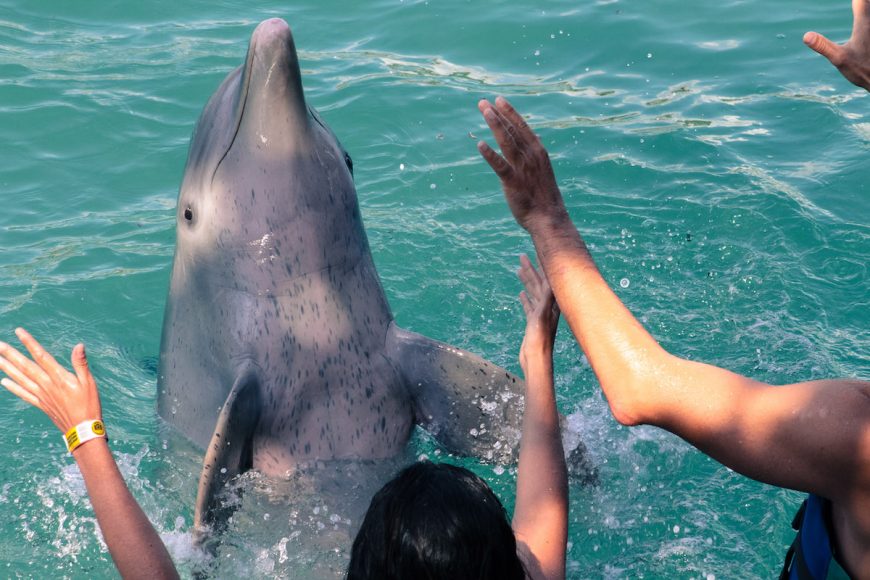 28
Jul
Most of us have either been on a vacation where captive dolphin swim programs were advertised around us, or we have seen photos of friends and family on social media participating in a dolphin swim. This particular vacation activity is not only outdated, but unethical in today's progressive society. It is time to end swim-with-dolphins programs, and here are 10 reasons why:
1. Water quality
Most swim-with-dolphins programs take place in either heavily chlorinated tanks, or in ocean pens. Both of these tank options leave the dolphins exposed to harmful conditions. The chlorine and other chemicals in traditional dolphin tanks are damaging to the the eyes and skin of the dolphins. Former dolphinarium employees have stated that dolphins often suffer from eye damage due to the tank's chemicals and harsh sun they cannot escape from. Ocean pens sometimes give the illusion that they are better or more natural, however they aren't. These dolphin pens are often exposed to pollution, boat noise, and contaminants from harbors. Our volunteers in Mexico have witnessed oil and/or gasoline slicks coating the surface of the water in dolphin pens. The dolphins have no choice but to swim in, and ingest that pollution. There is also the issue of dolphin excrement being in the water that people are swimming in. We will talk more about that in Reason #5.
2. Injuries to humans from dolphins
There have been numerous complaints and incidents reported of people getting injured during a swim-with-dolphins program. Customers have been bit, hit by tails, and even pulled under the water by over-worked and frustrated dolphins. These are wild animals being forced to interact with people all day long in exchange for their meals and that is bound to create an environment for accidents.
3. Support for captive breeding
Every single ticket that is purchased for a swim-with-dolphins program is directly encouraging the continuation of captive breeding programs. Dolphins are typically forcibly impregnated in order for the captive dolphin facility to achieve this goal. That means another life will be born into the captivity industry, and it also continues to put mother dolphins, as well as their calves, at risk of dying due to birthing complications.
4. Separation of mothers and calves
In the wild, dolphin calves will stay with their mothers for three to six years. However, in captivity mothers and calves are torn apart from one other much sooner. Captive facilities are in the business of entertainment, and calves need to begin training so they can be used in swim-with programs. In order to separate these bonded family pairs, several trainers must get in the water with them. Once the dolphins are surrounded by the trainers, half grab the mother, while the others grab a hold of the baby. The baby is then taken from the mother and placed in a separate tank. During this process both animals are visibly distressed as they try to stay together. Employees of the captivity industry have been known to quit because of this traumatic experience the dolphins are put through.
5. Reef and ocean degradation
One dolphin produces the same amount of excrement as about four to six people. That waste creates an enormous issue for coral reefs and ocean health. Thomas J. F. Goreau from Global Coral Reef Alliance studied the algae growth on and around the dolphin tanks in Isla Mujeres, Mexico. He found that the area was full of bacteria, viruses, and fungi and the corals in the area were being killed by algae blooms. Empty the Tanks volunteers also obtained water samples from a Dolphin Discovery location in Mexico and the lab results showed an increased level of feces in the water. The dolphin captivity industry does not take ocean health or environmental impacts into consideration when they are making their building plans.
6. Live captures
Dolphins are still being captured from the wild in order to supply the captivity industry with new stock and gene diversity. These dolphins are being captured in places such as Japan, Cuba, and Mexico. These captures take place because there is still a demand for captive dolphin entertainment. If we want to see an end to wild captures, then we must bring an end to dolphin captivity.
7. Dolphin health
Many dolphins in captivity are suffering from a variety of health issues. Former employees and trainers from captive facilities in Mexico have spoken about their concern about the dolphins' health issues. Dolphins are being given a variety of medicines to treat things such as sunburns, ulcers, stress, cancer, teeth degradation, and injuries from their tanks and tank mates. These are all health issues not seen in wild populations. In captivity, dolphins spend so much time at the surface or in tanks without shade that they acquire sunburns and other skin conditions. In the wild, dolphins are always moving and diving, so injuries due to sun exposure is unheard of. The stress of daily interactions with people also causes internal damage such as ulcers. There is a long list of health issues that have become a part of dolphin captivity, and only ending captivity will end this suffering.
8. Injuries to dolphins from people and other dolphins
Injuries and accidents are a daily occurrence at captive dolphin facilities. One trainer from a facility in Mexico disclosed that they have to remind customers daily not to kick the dolphins when they swim near them. The customers get nervous and then instinctually kick the dolphins to keep them from coming too close. The dolphins also injure each other often as they are releasing their pent up aggression and stress due to a life in captivity. Dolphins in captivity can always be seen with rake marks on their bodies and heads, as well as sporting injured and scarred rostrums. One incident that took place earlier this year involved a well-known dolphin at Dolphinaris Barceló named Alex. A former trainer alerted our Empty the Tanks campaign to Alex's death and stated that he died after being attacked by the other dolphins in his tank. Alex is just one of many dolphins to sustain injuries due to life in captivity.
9. Unnatural causes of death
There is no surprise that along with the injuries and health issues that captive dolphins face, they are also subject to unnatural deaths. According to government records, dolphins in Mexico have died from septic shock, pneumonia, fungal infection, drowning, organ failure, cancer, suffocation, heart attacks, chronic stress, blunt force trauma, ruptured bladder, and antibiotic toxicity. A former employee has also described a story of a young dolphin dying after it choked on a palm frond that had fallen into the tank. Ending dolphin captivity is the only way to end this cycle of unnatural and traumatic deaths for dolphins.
10. Captivity versus wild
In captivity, dolphins live a life completely opposite of their wild cousins. They cannot swim, forage, and dive the way they were born to in the ocean. They are not free to reproduce and raise their calves the way that nature designed them to. In captivity, they are forced to do tricks in order to receive their meal rations of dead, frozen fish while their wild cousins are chasing fish through the ocean and eating whenever they please. Wild dolphins will never know hunger the way captive dolphins do. Captive dolphins are forced to live in less than one percent of their natural habitat. Combine that statistic with the fact that a pod of wild dolphins can travel up to 100 kilometers a day in the open ocean, and it is quite clear that these intelligent marine mammals do not belong in tanks.
Please share this information with your friends and family to encourage them not to support the captive dolphin industry. One day of vacation for you is a lifetime of misery for them. Don't buy a ticket to a dolphin show or swim-with-dolphin program!